When it comes to baby showers, choosing the perfect outfit can be just as important as picking out the perfect gift. It's a time to celebrate the upcoming arrival of a new little one, and you want to look and feel your best. One popular destination for baby shower dresses is Lulus, a trendy online retailer that offers a wide selection of stylish and affordable clothing options.
One of the biggest advantages of shopping for baby shower dresses on Lulus is their extensive selection. They offer a wide range of styles, colors, and sizes to choose from, so you're sure to find something that suits your taste and fits your body type.
Whether you're looking for a flowy maxi dress, a cute and casual sundress, or something a little more formal, they have plenty of options to choose from. Plus, they update their inventory frequently, so there's always something new and exciting to discover.
Variety of Baby Shower Dresses on Lulus
Lulus offers a broad range of baby shower dresses in different styles, colors, and sizes. From maxi dresses to mini dresses, there is a dress for every preference. Some of the popular styles include:
Floral Dresses: Floral dresses are an excellent choice for baby showers. They are feminine, stylish, and can be worn during any season. Lulus offers a variety of floral dresses in different lengths, patterns, and colors. Some popular choices include the "Better Together" Sage Green Floral Print Wrap Maxi Dress and the "Garden Splendor" Light Blue Floral Print Ruffled Midi Dress.
Maxi Dresses: Maxi dresses are a great option for expecting mothers who want to feel comfortable and look elegant. They are perfect for outdoor baby showers or events that require a more formal dress code. Some of the popular maxi dresses available on Lulus include the "All My Love" White Lace Maxi Dress and the "Luxe Life" Slate Blue Satin Maxi Dress.
Midi Dresses: Midi dresses are a versatile option for baby showers. They are perfect for those who want a dress that is not too long or too short. Lulus offers midi dresses in various styles and colors, such as the "Cocktail Hour" Black Satin Midi Dress and the "Twirl About" Blush pink baby shower dresses.
List of baby shower dresses for women on Lulus that you don't want to miss:
1. Cascading Crush Red Midi Dress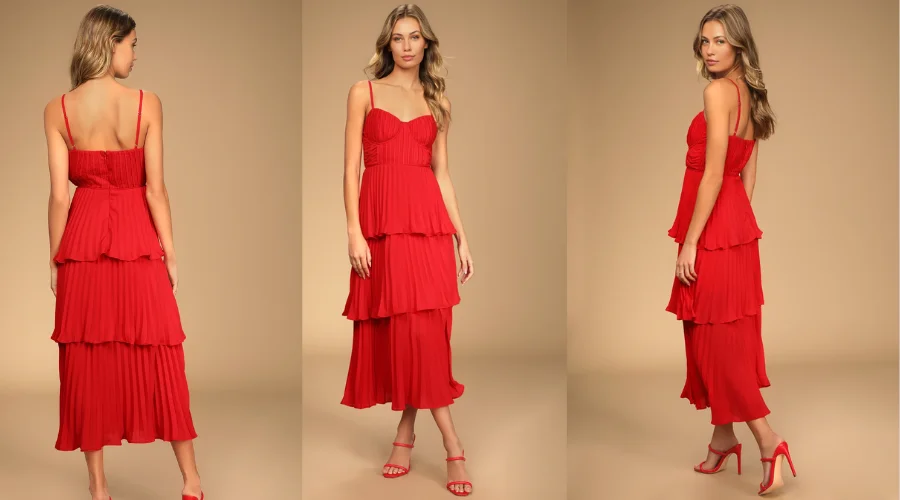 The Cascading Crush Red Tiered Bustier Midi Dress, available on Lulus, is the perfect choice for anyone looking for a chic and stylish outfit for a baby shower. This dress is a gorgeous shade of red and features a flattering bustier-style bodice that is sure to turn heads. The dress also boasts a flowing tiered midi-length skirt that adds an extra touch of elegance and sophistication to the overall look.
It is suitable for a range of occasions, from formal events to more casual gatherings. However, it is particularly well-suited for baby shower dresses. The dress is comfortable and breathable, which is essential for any pregnant woman attending a baby shower. It also has a playful and feminine vibe that perfectly captures the joy and excitement of this special occasion.
---
2. Make It Mesmerizing Light Blue Jacquard Tiered Midi Dress
This exquisite dress showcases a luxurious light blue jacquard fabric, adding a touch of elegance and sophistication to your attire. The tiered design creates a flowing, feminine silhouette that flatters a wide range of body types, ensuring you feel confident and beautiful. The true charm of this dress lies in its intricate details, such as the delicate textured pattern and the gentle shimmer of the fabric, which catch the light as you move. The midi length strikes the perfect balance between elegance and modernity, making it an ideal choice for weddings, cocktail parties, or any event where you want to make a statement.
---
3. Radiant Ruby Red Floral Print Maxi Dress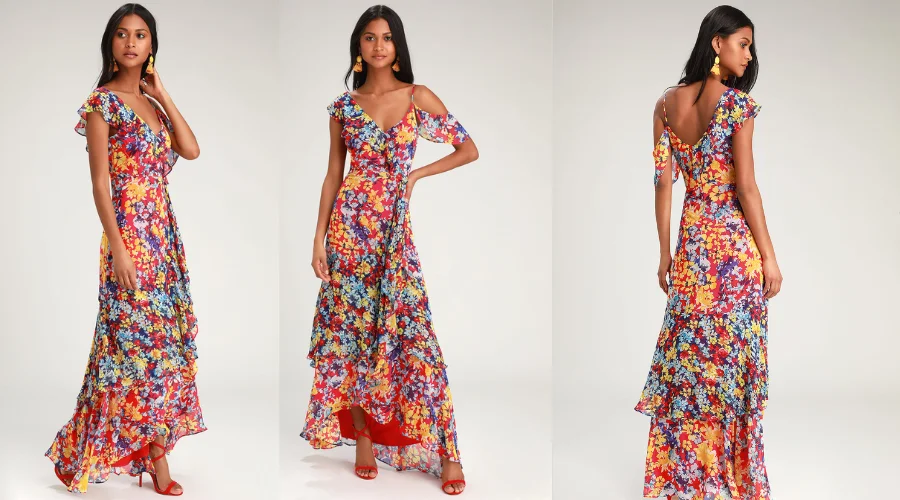 The Radiant Ruby Red Floral Print Chiffon Maxi Dress is a beautiful and elegant piece of clothing that can be found on Lulus. This dress is perfect for any occasion, including baby showers, due to its comfortable yet stylish design. The dress features a flattering maxi length, which flows elegantly as you move, making you look and feel like a true queen.
One of the standout features of this dress is the gorgeous ruby red color and floral print. The print is intricate and delicate, creating a feminine and sophisticated look that is sure to turn heads. The chiffon fabric adds an extra touch of elegance and femininity to the dress, making it perfect for special events such as baby showers.
---
4. Cascading Crush Blue Floral Print Midi Dress
The Cascading Crush Blue Floral Print Tiered Bustier Midi Dress is a stunning piece from Lulus that's perfect for baby shower dresses. This dress features a beautiful blue floral print that's sure to make the wearer stand out from the crowd.
The tiered bustier design adds a flirty touch to the midi-length dress, while the flowy skirt provides a comfortable and relaxed fit. The dress is made from lightweight material, making it ideal for warmer weather or outdoor events.
One of this dress's best qualities is its versatility. It is a wonderful option for a range of events because it can be dressed up or down depending on the situation.
For a baby shower, this dress would be perfectly paired with delicate jewelry and strappy sandals. The tiered design adds a playful touch that's perfect for celebrating the impending arrival of a little one.
---
5. Lovely Energy Mauve Floral Print Tiered Backless Midi Dress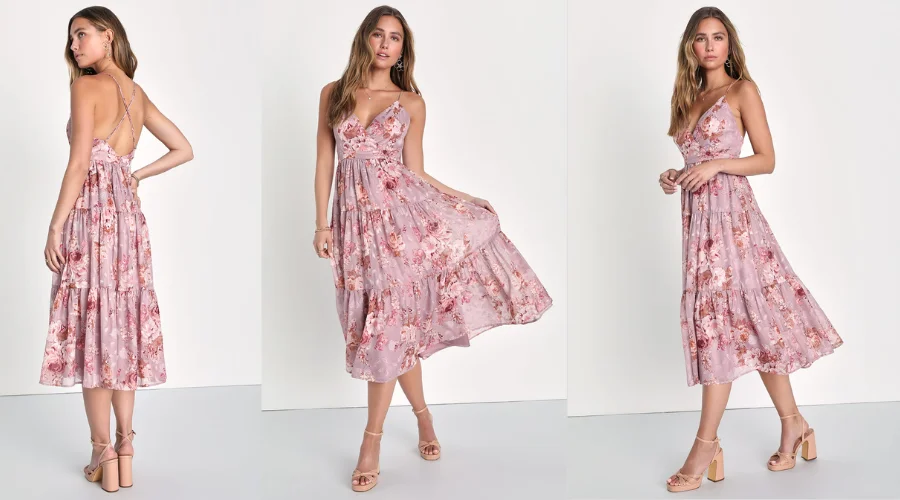 Introducing the Lovely Energy Mauve Floral Print Tiered Backless Midi Dress, a perfect blend of elegance and charm for any special occasion. This delightful dress features a beautiful mauve floral print that adds a touch of whimsy and romance to your ensemble. The tiered design gives the dress a graceful, flowing silhouette that flatters a variety of body types. But the true highlight of this dress is its alluring backless detail, providing a stunning focal point that sets it apart from the crowd. The midi length offers a perfect balance of sophistication and playfulness, making it suitable for various events such as weddings, garden parties, or even date nights.
---
Conclusion
In conclusion, Lulus offers a great selection of stylish and elegant baby shower dresses for expectant mothers. Whether you're looking for a classic, sophisticated look or something more fun and playful, Lulus has a variety of options to suit your taste and style. For more information, visit Celebzero.
FAQ's