Using an electric skillet is easy. You plug it into an electrical outlet and begin cooking. Electric skillets enable efficient and faster cooking with varied functions like braising, frying, and steaming. In many households, electric skillets are a compulsion. It is easy to understand why this versatile and practical equipment has won the hearts of so many home chefs. Typically, the wattage of an electric griddle is substantially lower than that of an electric stove; therefore, cooking on the griddle will cut your energy use. Also, an electric skillet may be great if you have a variety of recipes in mind, and the stove may prove hectic. Electric skillets are equally versatile with meats and vegetables. They are handy, making them ideal for cooking on the go. 
---
---
Pick the Best Electric Skillet
Let's find the best electric skillet available:
1. 16-Inch Presto Electric Skillet with Glass Lid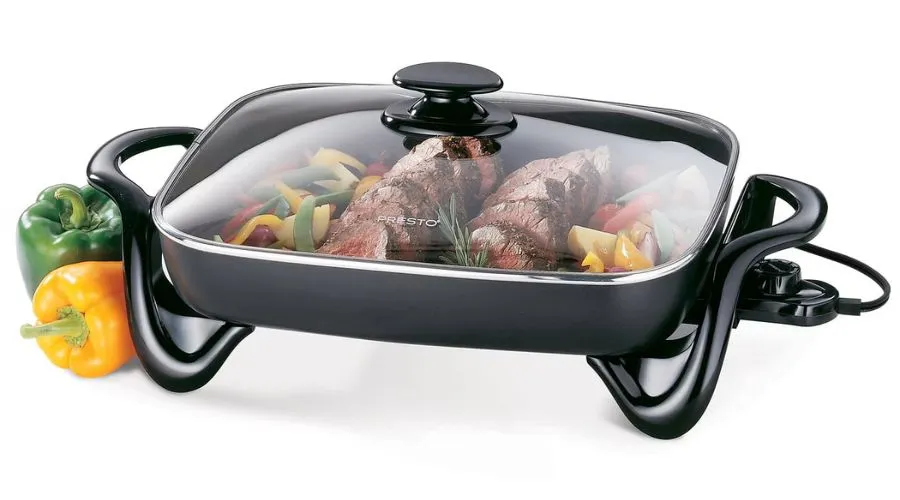 This energy-saving skillet, a versatile must-have for any home, is a range-burner alternative that can become your preferred cooking surface. The skillet is durable and comes with an insulated glass cover. This is one of the best big electric skillets.
2. Curtis Stone Dura-Pan All-Day Skillet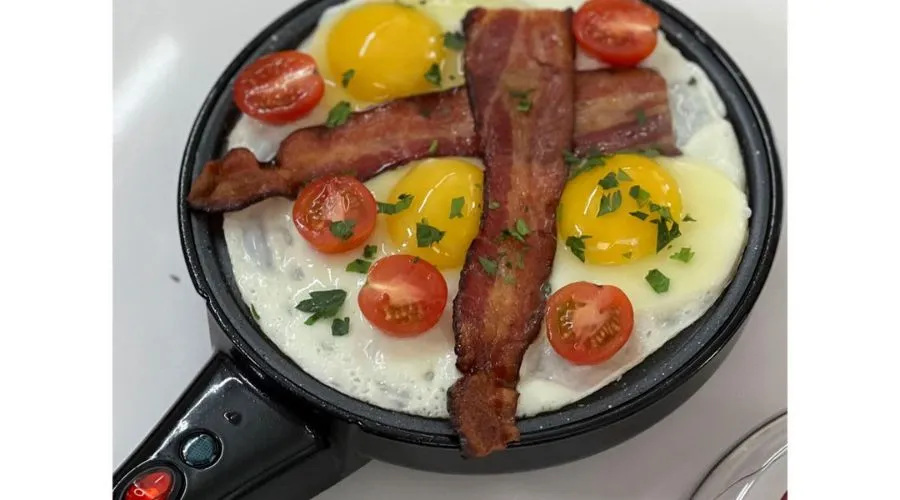 The Curtis Stone Dura-Pan All Day Skillet works as a multifunctional gadget that facilitates the preparation of your preferred dishes. you can use this versatile skillet to prepare pancakes, bacon, and omelets in addition to breakfast, lunch, and supper. 800 watts of electrical power for the heating element. The skillet has a single-button control and a ready-to-use indicator light. The skillet maintains the ideal cooking temperature, making it a contender for the best electric skillet. In addition, they construct it with Curtis's Dura-Pan nonstick coating, which makes cooking sticky food and cleaning effortless.
---
3. Cuisinart CSK-150 Electric Skillet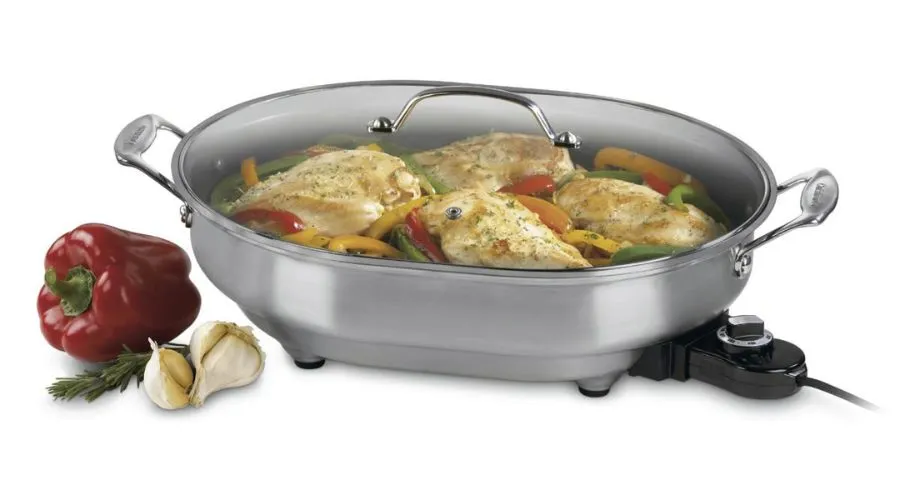 The skillet is among the most adaptable countertop cooking gadgets. It has a temperature range of up to 450°F. The nonstick surface is great for low-fat or fat-free cooking and is large enough to prepare pancakes, omelets, or crepes for many people at a time. The temperature probe is removable to make the skillet dishwasher safe. It has brushed stainless steel with a nonstick surface inside. The company uses the die-cast method for manufacturing. It has stainless steel handles and the Cuisinart logo engraved on the 12″ x 15″ oval cooking surface. The platform is completely submersible and safe for the dishwasher. It is among the best big electric skillets.
4. Electric Elite Gourmet 10.5″ x 2″ Skillet with Handle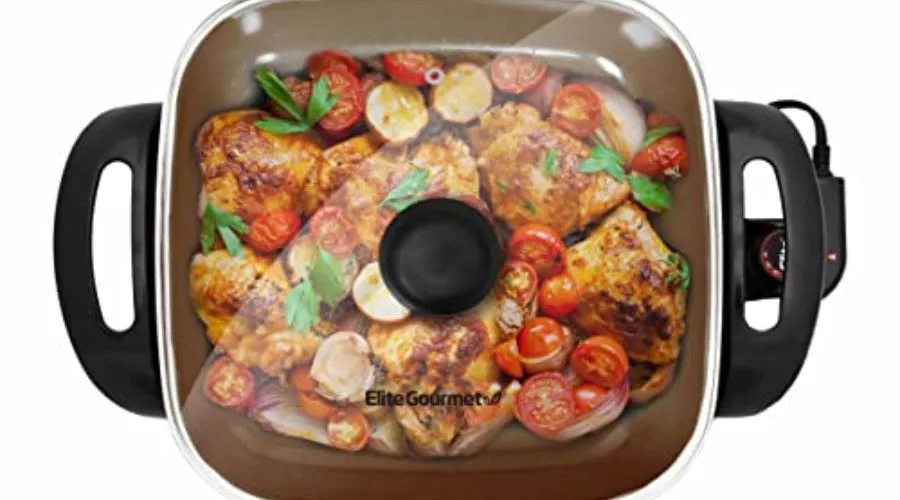 This is one of the most flexible and practical little kitchen gadgets available. You can cook a range of delicious dishes within minutes without using several pots, pans, or other pieces of equipment. The cooking is fast and consistent with its heavy-duty nonstick coating and built-in heating element. This completely best electric skillet immersible skillet is simple to clean. The temperature control is removable, which facilitates cleaning. These make it an ideal addition to the best electric skillet list. 
5. Elite Platinum 10.5-Quart Electric Skillet
This skillet can easily prepare meals as it can sear, fry, roast, and stew. It has a storage capacity of up to 10.5 quarts. It warms up fast and consistently, making your work super fast and efficient. The 10.5-quart electric skillet has an insulated glass cover, and its ergonomic design makes it one of the if not the best electric skillet.
Benefits of an Electric Skillet
If you believe an electric skillet is solely useful for college cooking, you should rethink! Indeed, they are ideal for RVs and smaller dwellings that lack fully equipped kitchens. Yet this useful countertop item also belongs in your kitchen. The electric skillet can be useful for various reasons. A few of them include:
1. Consistency
 Electric skillets with a broad range of temperature settings, generally 175°C to at least 400°C, enable you to cook nearly anything. Yet the finest aspect of the best electric skillet is that they maintain a constant temperature. Unlike conventional stovetops, which may have hot spots and inconsistent heat, electric skillets maintain the temperature you set consistently. This steady heat is also good for deep-frying doughnuts, chicken, potatoes, and fish in a best electric skillet, in addition to being ideal for sautéing and pan-frying.
2. Ease of Use
Electric skillets are also ideal for preparing breakfast foods. Breakfast items such as omelets, french toast, and pancakes benefit from even heat, ensuring a perfect taste. In addition, the exact temperature monitor enables you to poach fish and eggs at low temperatures.
3. Convenient for Parties
If the steady heat is not enough to convince you, consider the electric skillet's convenience during parties and holidays. If your burner is full, the best electric skillet not only provides additional surface area for cooking but is also an energy-efficient option. It is also a simple method to bring food to gatherings. You may also use it as a chafing dish during potlucks, thanks to its handles and broad base.
4. Summer-Friendly
On a hot day, best electric skillets will not heat the whole kitchen as an oven would. By using less energy than a stovetop, the best electric skillet provide a cooler and more cost-effective method of cooking in the summer.
Conclusion
It is worthwhile to use an electric skillet if you're seeking a space- and energy-saving cooking option. Electric skillets conveniently fit on the countertop, saving kitchen space while providing additional cooking options. Whether you are preparing a large quantity of food or preparing many meals while utilizing every burner on the stove, an electric skillet might offer you the extra cooking area you need. Read more on Celebzero.
FAQ's