Jeans for boys are a quintessential fashion choice that offers a winning combination of style and comfort. Designed with durability in mind, jeans can withstand the active lifestyles of boys, making them perfect for playtime and adventure. With their versatility, boys can easily pair jeans with different shirts and shoes to create a range of fashionable looks. Jeans effortlessly adapt to any setting, whether it's a casual outing or a more formal occasion. Their timeless appeal ensures that they remain a staple in every boy's wardrobe, allowing them to express their personal style while enjoying the practicality and comfort jeans provide.
GAP, a renowned clothing brand, offers an exceptional jeans collection for boys. With their commitment to quality and style, Gap jeans have become a go-to choice for parents seeking fashionable and durable options for their boys.
GAP Jeans for Boys
Gap's jeans for boys are crafted from high-quality denim, ensuring long-lasting wear and comfort. The brand offers a range of fits, including slim, regular, and loose, catering to different body types and preferences. This variety allows boys to find the perfect fit that suits their style and comfort level. In terms of style, Gap provides a diverse selection of washes, from classic indigo to trendy distressed finishes. This allows boys to experiment with different looks, from refined to more contemporary and edgy. Gap also offers various cuts, such as straight-leg, bootcut, and skinny, enabling boys to embrace their preferred silhouette. Styling jeans for boys by Gap is an exciting opportunity to create versatile and fashionable looks.
How to Style Jeans for Boys
1. Casual Everyday Look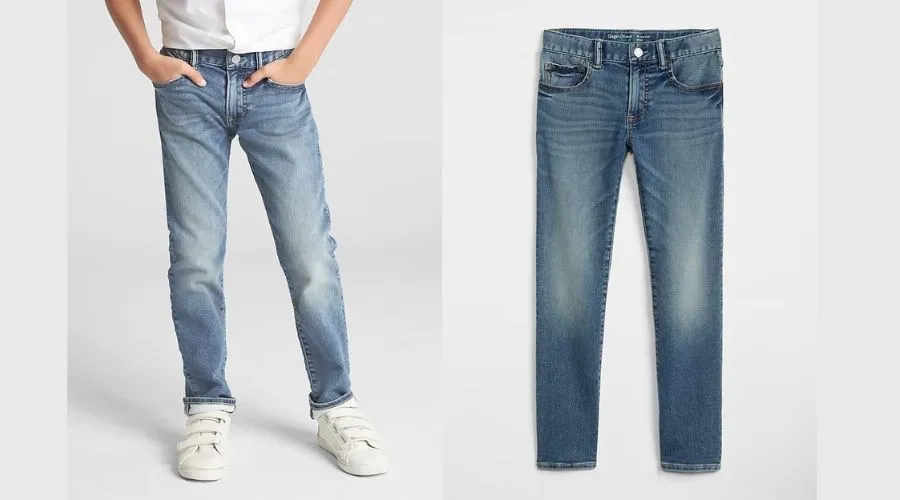 When aiming for a casual and comfortable everyday look, Gap jeans for boys can be paired with various tops to create a stylish ensemble. Opt for t-shirts in solid colors or with subtle prints for a clean and relaxed aesthetic. Boys can also choose graphic tees featuring their favorite bands, sports teams, or hobbies to express their personality. To add a touch of style, layering a lightweight hoodie or a zip-up jacket over the t-shirt can create a fashionable and versatile outfit. Complete the look with a pair of sneakers or canvas shoes, such as Converse or Vans, for a cool and effortless vibe.
Gap offers a range of Kids Slim Jeans with Washwell™, which combines style, fit, and sustainability. These jeans are designed with a slimmer silhouette, catering to boys who prefer a more fitted look.
---
2. Dressing Up:
Gap jeans can be dressed up for special occasions or more formal events. Pairing the jeans with a well-fitted button-down shirt creates a polished and sophisticated look. For a timeless appearance, opt for classic colors like white, light blue, or chambray. To elevate the outfit further, adding a blazer or a stylish jacket in a complementary color can bring a refined touch to the ensemble. Boys can finish off the look with dress shoes or loafers, ensuring they are comfortable yet elegant.
Gap's Kids Straight Jeans with Washwell™ are an excellent choice as jeans for boys who prefer a classic and relaxed fit. These jeans offer both style and sustainability, thanks to their straight silhouette and the implementation of Washwell™ technology.
---
3. Layering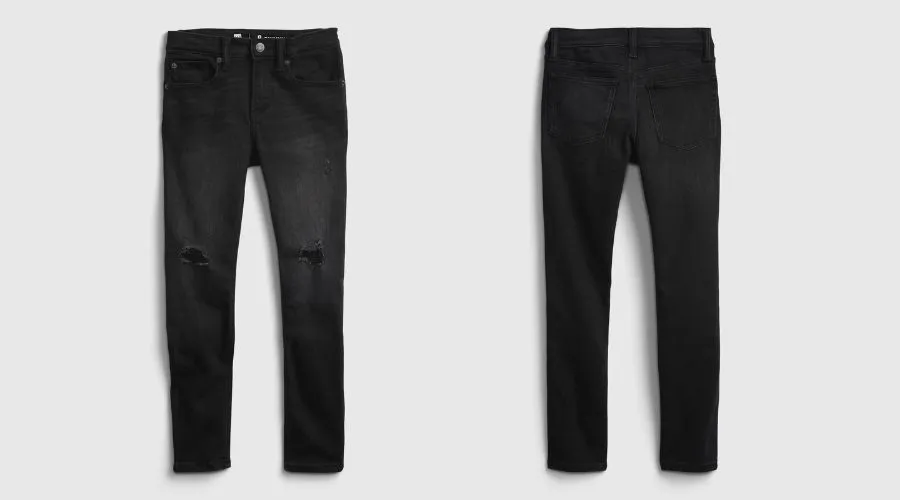 Layering is an excellent way to add depth and style to a boy's outfit, especially during colder seasons. Start with Gap jeans as the foundation and layer with different garments. A sweater or a cardigan can be worn over a t-shirt or a button-down shirt to provide warmth and a touch of sophistication. Boys can experiment with different textures, patterns, and colors to create unique combinations. For a trendy and urban look, consider layering with a stylish hoodie or a denim jacket. Finish off the ensemble with a pair of versatile boots or high-top sneakers, which not only add style but also provide practicality and comfort.
Gap's Kids Skinny Jeans with Washwell™ are a fashionable and sustainable choice for boys who prefer a fitted and modern look. These skinny jeans for boys are ripped a little in the knee area and offer a sleek and streamlined silhouette that is favored by boys seeking a contemporary and fashion-forward look. They provide a close fit through the leg, accentuating the body's shape while allowing for ease of movement. The skinny style, ripped jeans are versatile, allowing boys to dress them up or down for various occasions.
---
4. Accessorize:
Accessories can elevate the overall look and add personal flair to Gap jeans outfits. Encourage boys to choose accessories that reflect their interests and style. A stylish belt can be added to accentuate the waistline and provide a polished touch. Hats, such as baseball caps or beanies, can add a sporty or casual vibe depending on the occasion. Scarves and sunglasses can also be incorporated to enhance the outfit's style and provide functionality. The key is to ensure the accessories are age-appropriate, comfortable, and align with the boy's personal taste.
Gap's Teen Original Fit Jeans with Washwell™ is a fantastic choice for teenagers seeking comfortable and stylish denim with a classic and relaxed fit. The original fit of these jeans provides a comfortable and relaxed silhouette that suits a variety of body types. They offer a roomier fit through the hip and thigh areas, allowing for ease of movement and all-day comfort. This style is ideal for teenagers who prefer a more relaxed and laid-back look while still maintaining a fashionable edge.
---
5. Denim-on-Denim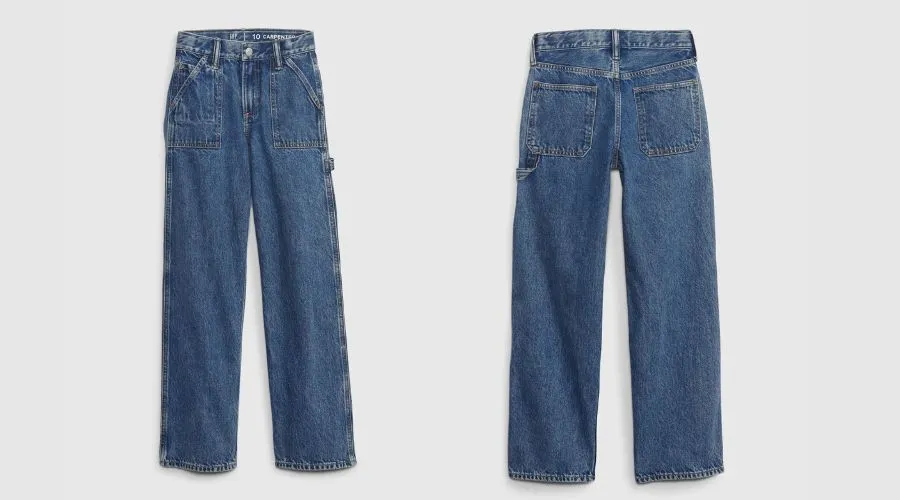 For boys who want to make a fashion statement, embracing the double denim or denim-on-denim trend is a great option. Pair Gap jeans with a denim jacket or a chambray shirt in a different shade of blue or even a contrasting color. This combination creates a trendy and modern look. To balance the outfit, consider wearing a lighter-wash denim jacket with darker jeans or vice versa. Adding other accessories like a belt, a beanie, or statement sneakers can further enhance the style and create a cohesive denim-focused ensemble.
Gap's Kids Carpenter Jeans with Washwell™ are a versatile and durable choice for kids who require functionality and style. Carpenter jeans are known for their distinctive features such as multiple utility pockets and reinforced stitching, making them ideal for kids who need extra storage and durability. These jeans offer ample space for tools, gadgets, or personal items, allowing kids to keep their essentials close at hand. The reinforced stitching ensures the jeans can withstand the demands of active play and provide long-lasting wear.
Remember, the most important aspect of styling Gap jeans for boys is encouraging their individuality and allowing them to express their personal style. It's crucial to involve them in the decision-making process and let their preferences shine through, ensuring they feel confident and comfortable in their outfits. With Gap jeans as a versatile and reliable foundation, boys can experiment with different combinations, patterns, and accessories to create their unique fashion statements.
---
Conclusion
Gap offers a diverse collection of jeans for boys that combine style, durability, and sustainability. From slim and straight fits to carpenter-style options, Gap jeans cater to different preferences and body types. With their high-quality construction and reinforced stitching, these jeans are built to withstand the active lifestyles of boys. The variety of washes and finishes allows boys to express their individuality, while Gap's commitment to sustainability through initiatives like Washwell™ technology ensures a conscious fashion choice. Gap jeans for boys are a reliable and fashionable option that combines comfort, style, and environmental responsibility. For more information on jeans for boys, visit Celebzero.
FAQs