Now, if you think that sequin dresses are worn just for Christmas, you are wrong. They are forever dresses that you can rock for any occasion you'd want to wear them, like weddings, parties, or even your birthdays. So, if you are looking for a timeless piece filled with glitter and glamour to look flawless, Karen Millen offers a wide selection of stunning sequin dresses at pretty reasonable prices.
8 Best Sequin Dresses to add to cart this 2023 
1. Halter Neck Feather Sequin Detail Maxi Dress 
The Halter Neck Feather Sequin Dress is an extraordinary outfit that not everyone can pull off. The bold orangish shade, a fluted skirt that flows incredibly, and a sleeveless bodice make it worthwhile. The copper sequin embellishments on the beautiful maxi dress elevate the dress's look, and you can easily pair it with stilettos, some golden jewelry, and a sleek hairstyle. The dress is made from 100% polyester material that makes it comfortable and durable, and it comes in varied sizes ranging from UK 6-16, costing £275.40.
---
2. Sequin Embellishment Mini Woven Dress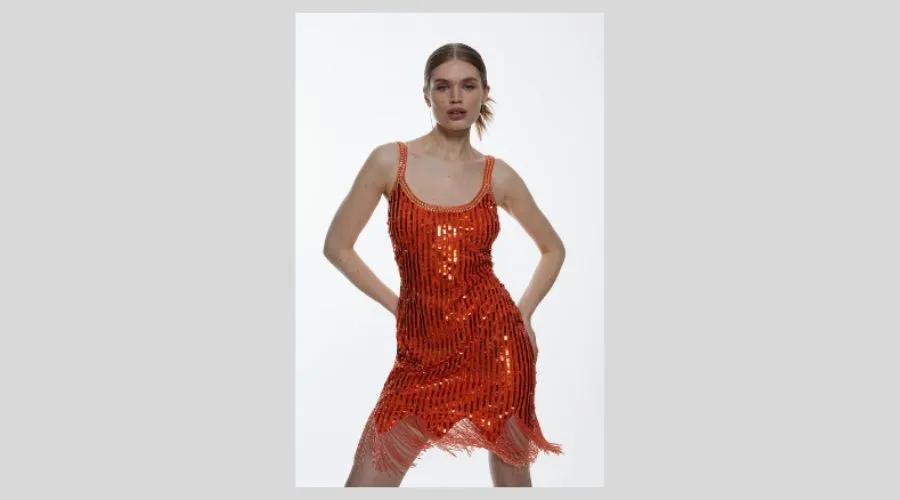 Sequin Embelishment Mini Dress is a one-of-a-kind sequin dress that is made from 100% polyester. Not only is this dress ever-lasting and stunning, but it is also pretty affordable, costing only £101.40. It has two solid straps, providing enough support and comfort to your dress, and yet tassels at the end of the dress to complete the overall fit. You can buy this apparel in two distinctive colors- yellow and orange, and in various different sizes ranging from UK 6-16. So, to score a dazzling look, this dress is a must-own find.
---
3. Pu Leather Sequin Mini Dress 
This Pu Leather Sequin Mini Dress has an eccentric appearance amongst other sequin dresses. The mini dress has a cutout bodice incorporated with leather borders, intricate sequins, and the finest tassels. The fit-and-flare cut is inspired by 90s silhouette dresses, giving the dress a timeless appearance. Pair the dress with golden jewels, and metallic stilettoes for a party-ready fit. The silver-colored women's sequin dress comes in various sizes ranging from UK 6-16 and costs £179.40.
---
4. Sequin Halter Cowl Neck Mini Dress 
For those looking for a classic sequin dress at a reasonable price, this Sequin Halter Cowl Neck Mini Dress is a stunning find. The iridescent shade, a small middle slit, and the glittery sequin dress will undoubtedly make you stand out in the crowd. Because of the halter neck, you get an open back, and you can easily style it with closed-toe heels and a stylish sling bag. The article is made of 100% polyester, giving it an ever-lasting look, and you can choose from various available sizes, including UK 6-16, and costs £95.40.
---
5. Crystal Embellished Cady Blazer Dress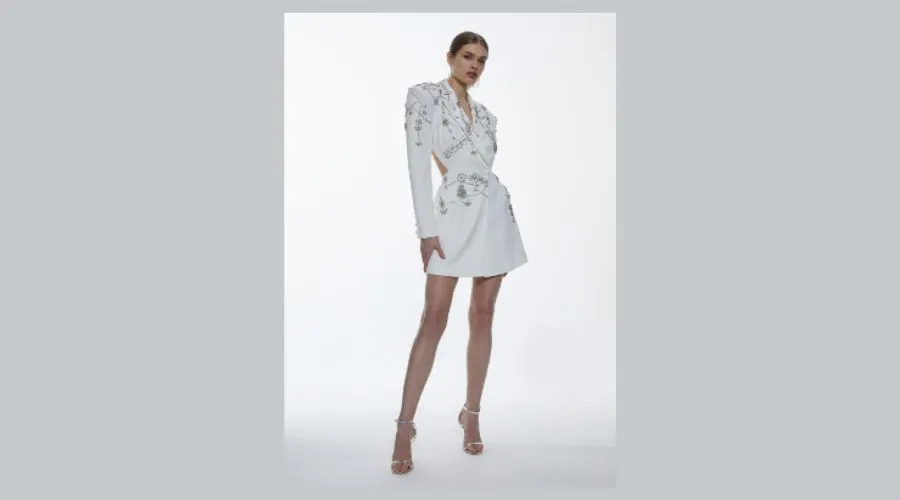 The Crystal Embellished Cady Blazer Sequin Dress is a limited edition dress that was created as one of just 150 styles. You don't need any jewelry to style the dress, as it is already embellished with claw crystals. The blazer dress has strong shoulders, a stunning back design, and a fitted cady that makes it a magnificent attire. The white dress also has flap pockets with side cut-outs and is made from 100% polyester. You can choose the dress in a beautiful purple shade and various sizes, including UK 6-16. It costs £251.
---
6. Sequin Short Sleeve Maxi Dress 
This Ivory-colored Sequin Maxi Dress is an exquisite dress that is pretty affordable. The languid maxi dress has short sleeves, a round-neck bodice, and a perfectly draped skirt. It has an unexpectedly high-low hemline, which makes this piece a rare find. You can pair the dress with golden-rose jewelry and a light-colored heel so that it doesn't take away the spotlight. The sequin-finished polyester dress is available in sizes including UK 6-16, and it costs only £129.
---
7. Embellished Halter Figure Form Mini Dress 
This Embellished Halter Figure Mini Dress is a classic black sequin dress that you can easily carry on any occasion. You can wear it with an overcoat for an office look or pair it with some colorful wedges for a party look. It is a limited-edition sleeveless pencil dress with a halter neckline. The sequin dress is made from 93% polyester and 7% elastane, giving it a sturdy and bold outlook. You can find the fit in various sizes ranging from UK 6-16, and the item costs £150 only.
---
8. Fringe Sequin Bandeau Mini Dress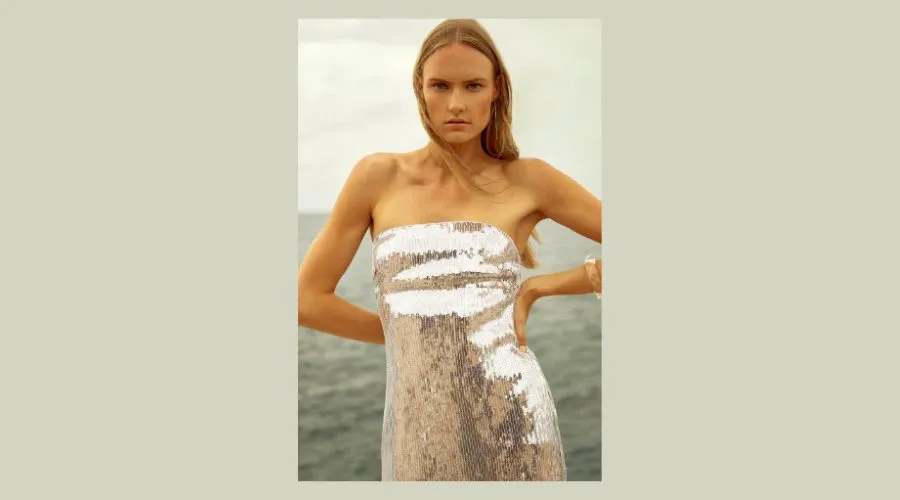 Karen Millen is a renowned apparel brand for evening dresses, and this Fringe Sequin Bandeau Mini Dress proves just that. This captivating dress is adorned with stunning light-reflecting silver sequins, making it an impactful and ideal fit. It has a fringed hemline with a bold bandeau neckline, adding a vibrant finish to the dress. You can easily style this midi-length dress with matching silver heels and a handbag. The article is available in varied sizes, including UK 6-16, and costs £59.40, making it the cheapest find. 
---
Conclusion 
Deciding what to wear for party nights could be very confusing because there are so many choices. So, invest in an always-winning sequin dress that you can easily slay on other occasions too. From a formal event to attending a wedding party, these exquisite dresses offered by Karen Millen are surely worth spending money on. Therefore, quickly take a look at the abovementioned dresses available at affordable prices and order your favorite right away. For more information, visit Celebzero.
FAQs