When it comes to luxury watches, Panerai is a brand that needs no introduction. Founded in Florence, Italy in 1860, the brand has established itself as a leading manufacturer of high-quality watches that are both elegant and sophisticated. Today, Panerai men's watches are known for their unique designs and exceptional quality, making them a favorite among watch enthusiasts.
The design of Panerai Men's Watches
One of the defining features of Panerai men's watches is their unique design. The watches typically feature large, easy-to-read dials with bold, luminescent numerals and indices. This design is inspired by the watches the company produced for the Italian Navy, which were designed to be legible in low-light conditions.
In addition to their functional design, men's Panerai watches are also known for their aesthetic appeal. Many models feature simple, elegant designs that are perfect for formal occasions, while others are more rugged and sporty, making them ideal for outdoor activities.
Here is a list of Panerai Men's Watches on Goldsmiths that you don't want to miss:
1. Submersible 42mm
Panerai is a brand that has become synonymous with high-quality luxury watches. The company has a rich history of producing some of the finest timepieces in the world, and its watches are highly coveted by collectors and enthusiasts alike. 
One of the most popular models in the Panerai collection is the Submersible 42mm. This watch is available for purchase on Goldsmiths, and it is an excellent example of the quality and craftsmanship that Panerai is known for.
The Submersible 42mm is a rugged and reliable watch that is designed for use in harsh environments. It features a stainless steel case that is water-resistant to a depth of 300 meters, making it ideal for diving and other aquatic activities. The watch also has a scratch-resistant sapphire crystal that protects the dial and ensures that it remains readable even in challenging conditions.
---
2. Piccolo Due MadrePerla 38mm
The Piccolo Due MadrePerla 38mm is a men's watch that boasts a minimalist yet elegant design. The watch features a 38mm stainless steel case with a polished finish that gives it a refined look. The white mother of pearl dial is simple yet striking, and the blue Arabic numerals and indices add a pop of color to the watch. The watch also features luminous hands and markers, making it easy to read in any lighting condition.
One of the standout features of the Piccolo Due MadrePerla 38mm is the P.6000 mechanical movement. This hand-wound movement is made in-house by Panerai and is known for its accuracy and reliability. The movement has a power reserve of up to 72 hours, ensuring that the watch will keep ticking even if it's not worn for a few days.
---
3. Submersible QuarantaQuattro Bianco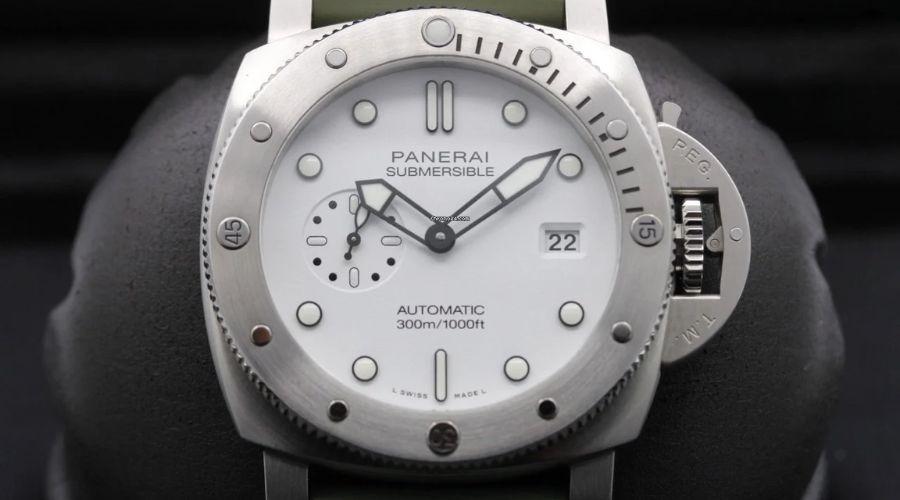 One of the most notable features of the Submersible QuarantaQuattro Bianco is its oversized case, which measures 44mm in diameter. The case is made of a high-tech ceramic material, which makes it lightweight, scratch-resistant, and highly durable. The ceramic material is also resistant to corrosion and is unaffected by exposure to saltwater, making it an ideal choice for a dive watch.
The watch has a striking white dial with contrasting black hour markers and hands, giving it a bold and sporty look. The dial features a small seconds sub-dial at 9 o'clock and a date window at 3 o'clock, adding to the watch's functionality. The hour markers and hands are coated with Super-LumiNova, a luminescent material that allows for optimal legibility in low-light conditions.
---
4. Luminor Marina 44mm Mens Watch
The Luminor Marina 44mm Men's Watch is an exquisite timepiece that showcases the superior craftsmanship of the Panerai men's watches. Panerai has been a leading name in the luxury watch industry for over a century, and the Luminor Marina is a prime example of their attention to detail and dedication to quality.
At first glance, the Luminor Marina watch features a simplistic and elegant design. The black dial is adorned with Arabic numerals and indexes that are coated with luminous material, ensuring easy readability even in low light conditions. The watch's classic stainless steel case is polished to a mirror finish, making it a statement piece that is perfect for any occasion.
---
5. Radiomir Quaranta 40mm The Watches Of Switzerland Group Exclusive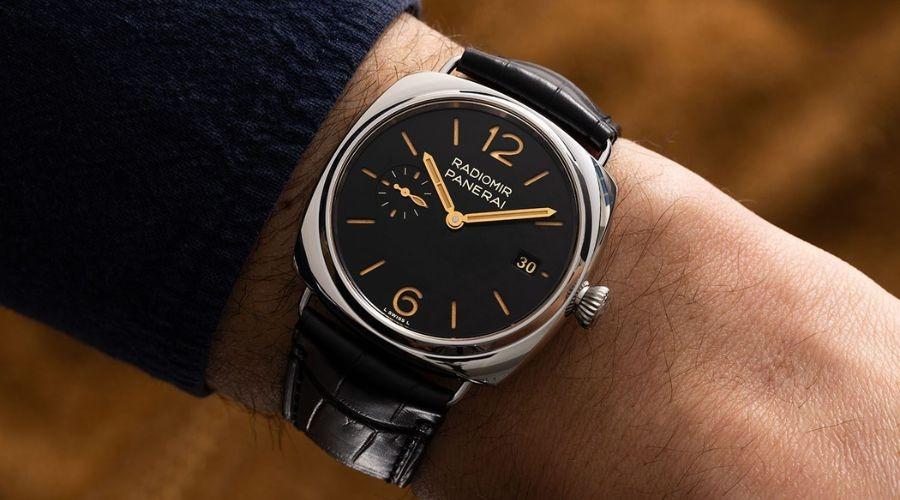 Radiomir Quaranta 40mm is an exclusive watch from the Panerai men's watches collection that has been exclusively created for The Watches of Switzerland Group. The watch combines the classic and timeless design of the Radiomir collection with the modern technology and sophistication of contemporary luxury watches. 
One of the most noticeable features of the Radiomir Quaranta 40mm is its elegant and understated design. The watch has a clean and simple dial with a minimalist design that emphasizes the practicality and functionality of the watch. The black dial is adorned with Arabic numerals and luminous markers that are easy to read even in low light conditions. The date display is positioned at the 3 o'clock position, which adds to the overall symmetry and balance of the watch.
---
Conclusion
Panerai men's watches are a symbol of elegance and sophistication. With their unique design, exceptional quality, and rich history, they are a favorite among watch enthusiasts. Whether you're looking for a classic dress watch or a rugged sports watch, a Panerai watch is sure to make a statement. And with the wide range of models available from retailers like Goldsmiths, it's easier than ever to find the perfect watch to suit your style and needs.For more information, visit Goldsmiths and the official website of Celebzero.
FAQ's