Are you unable to organise the necessary stuff to carry in the office? Now it's time to get organised with high-quality and spacious office backpacks that have separate chambers for every stuff. With a classic backpack you can carry so much stuff securely which is needed in the office or on the way to the office- including laptop, pens, papers, water bottle and a lunchbox if you want. Vera Bradley has an extensive collection of durable backpacks for office depot that are made of recycled plastic bottles, water-repellent polyester and soft recycled cotton.
Oh wait, are you a college goer? Don't be disappointed! You can also have one of the backpacks to carry your laptops, books, notebooks, and other stuff to college. You can also use it in the office after passing out from college. Vera Bradley has an array of office backpacks to match with your style- it can be cool or professional or both at the same time.
Want to know more about the best office backpacks? Let's read the full article to find out which backpack matches your needs.
Why are backpacks better than shoulder bags for the office? 
Why backpacks for the office and why not shoulder bags? Let's discuss- If you carry shoulder bags for the office, that means you are carrying the whole weight of your bag and office stuff on one shoulder. And most of the cases, the straps of the shoulder office bags are not padded. So, it becomes painful to carry a shoulder bag for the office. 
But when it comes to an office backpack, it becomes easy to carry as it has two padded straps for carrying it on two shoulders. So, the weight equally divides and causes less pain. Backpacks are also easy to manage in any crowded place. And most importantly you can carry a lot of stuff in a backpack which takes less space to fit in.
Here is the list of some of the stylish and spacious office backpacks for your needs
Keep your official stuff organised and secure with these best office backpacks. Let's have a look at the stylish office backpacks-
1. ReActive Campus Totepack – Black 
Are you confused whether it is a tote or backpack? Surprisingly, it is both. You can use ReActive Campus Totepack as an office backpack or else as a tote bag. It's a perfect backpack for a nature lover. Being waterproof, this backpack's exterior is made of recycled plastic bottles. This totepack has a separate chamber for the laptop and protects it from any kind of damage. You can keep your bottles in the side slip pockets. This eco-friendly totepack makes sure to keep your things well organised in its main and other compartments. Its padded back panel gives an ultimate support to your back that makes it easy to carry for a long travelling period. ReActive Campus Totepack in Black is easily washable, you can take this water-repellent totepack wherever you want.
---
2. Commuter Backpack in Performance Twill Black 
Commuter Backpack in Performance Twill Black is one of the best office backpacks with 22 litre capacity. Being made with polyester, this backpack is water-repellent. Your laptop (up to 15 inch) is secure in this backpack, it will not get wet due to rain. It has zip and slip pockets to keep your things organised. For more safety and protection, keep your mobile inside the hidden mobile phone slip pocket. The combination of the quilted-sleek polyester and silver chain with a stylish black zip make this backpack out of the box.
---
3. Campus Backpack in Microfiber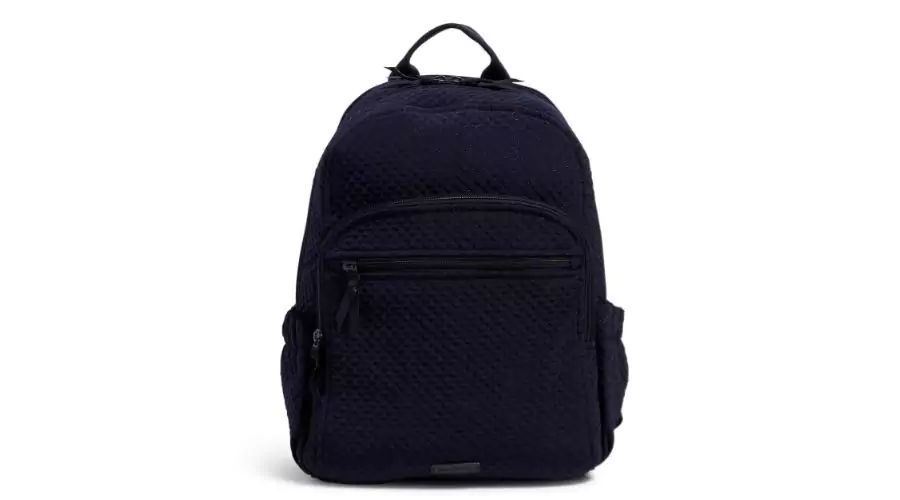 Made from lightweight and solid-coloured polyester, this Campus Backpack in Microfiber is easy to carry even with a trolley bag with the help of its trolley sleeve. This smart functional backpack has the capacity of 25 litres. It is an everyday backpack which has a separate laptop compartment, a lot of custom pockets in the exterior part and a huge space in the main component. Are you a foodie? Then you will be happy to know that you can keep your snacks inside the mesh pocket of this backpack. Keep your stuff organised on every working-day with this navy coloured office backpack.
---
4. XL Campus Backpack in Recycled Cotton Black 
As the name indicates, this Black XL Campus Backpack is made out of soft recycled cotton. Your back will be in ease as it has a padded back panel and also padded straps. Your laptop will not be damaged if the backpack falls down, because it has a separate and secure padded laptop chamber. The high-quality Black XL Campus Backpack has 30 litre capacity in total which is also good to go for a vacation. Its so many separate pockets & huge space makes this backpack super functional and a great organiser. If you want to carry this black backpack with formals, it will give a professional look; but if you want to carry it while wearing casuals, it will look cool. Style it the way you want!
---
5. XL Campus Backpack in Recycled Cotton Climbing Ivy Green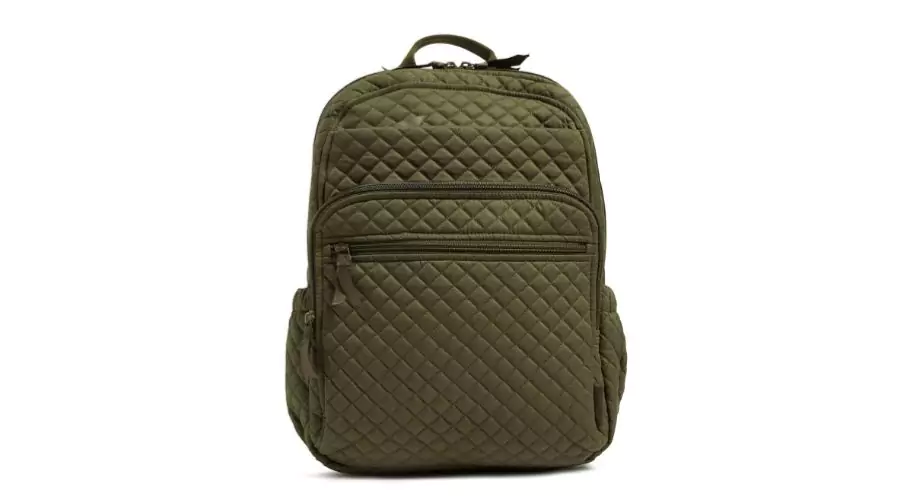 Looking for a backpack with a huge space and good capacity to carry your stuff? This Climbing Ivy Green XL Campus Backpack is one of the perfect backpacks for office depot which has the capacity of 30 litre. Made with 100% durable recycled cotton, it's an everyday backpack which you can also carry with your trolley bag with the help of its trolley sleeve while travelling. The front compartment has separate pockets for your pens, ID card and some other little stuff which need to be organised. After putting in a lot of things in this unique coloured backpack, the weight of it will surely increase. But, your back and shoulder can comfortably carry it as this XL Campus Backpack has padded panel back and padded straps.
Conclusion 
Now you are aware of office backpacks that are fashionable and functional at the same time. If you don't want to get fined by your company, protect your laptop by using a backpack that has a separate padded laptop chamber. You don't need to be fumbled anymore when your colleague asks you for a pen! By using these backpacks, you will be able to find the pen easily as it has separate pockets for every stuff. The high-quality material ensures the durability of these stylish office backpacks. You can pick the one which compliments your style. Be professional and stylish in one go! For more such information about stylish backpacks for office depot, visit Vera Bradley and the official website of Celebzero.
FAQ's