Leather jackets have always been in trend, and in recent years, amazing leather jackets have come in shorter sizes. These short leather jackets end at your waist or a little below, but their shorter size removes some of the bulk. At the same time, these are the same short leather jackets you can style in any way you want, be it with pants or skirts, tank tops, or anything you may want to pair them with. 
You can also find jackets in a variety of colours, which makes them more appealing.  Leather jackets have been around for a long time, but short leather jackets have become more appealing in recent years for people around the globe. 
Best Short Leather Jackets
1. Leather Collarless Biker Jacket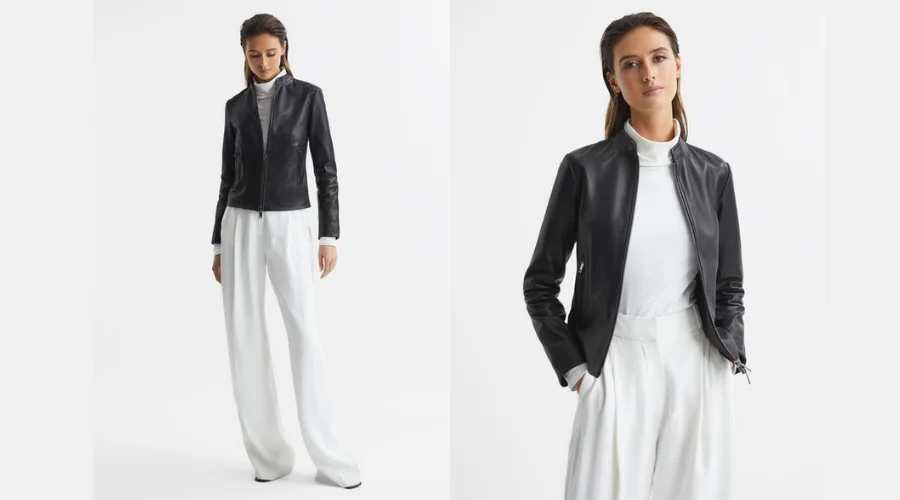 The special leather jacket from Allie comes in sizes 4 to 16, making it available for everybody, regardless of body shape. This amazing short leather jacket comes without a collar and is a modern twist to the retro leather jacket. It also has a double-ended zip that gives it a sleek look. The short leather jacket utilises butter-soft leather, making it feel amazing and comfortable. However, it also makes you look tough and feminine with its slim fitting. Best of all, it has zip pockets for each hip.
---
2 . Leather Biker Jacket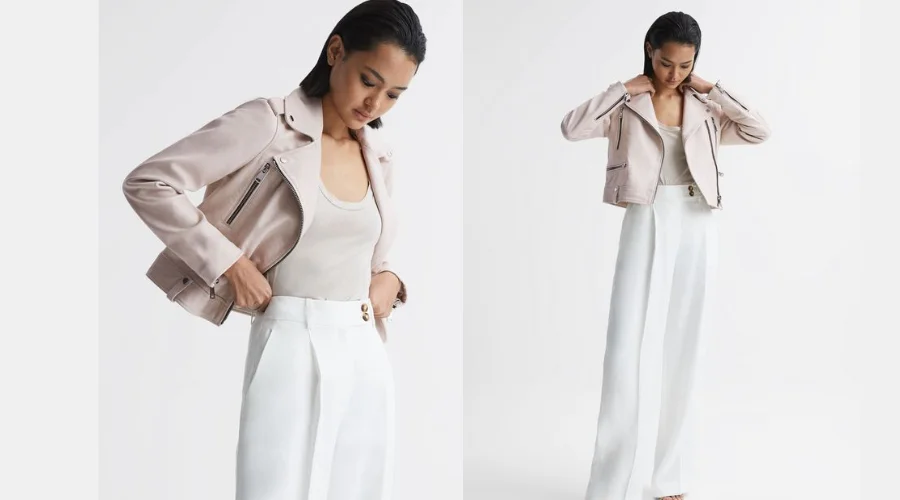 This Santiago jacket comes in a beautiful off-white colour with a classic style. Among one of the best-crafted short leather jackets, the jacket has been made with big-notch lapels, zipped pockets, epaulettes, and a zipped front. It's entirely leather, and it also comes in a variety of sizes. Hence, the jacket would make anyone look flattering regardless of your figure. It makes you look both feminine and strong. Its proper and overall appeal makes it suitable for accessorising with anything you may want. 
---
3. Leather Biker Jacket in Neutral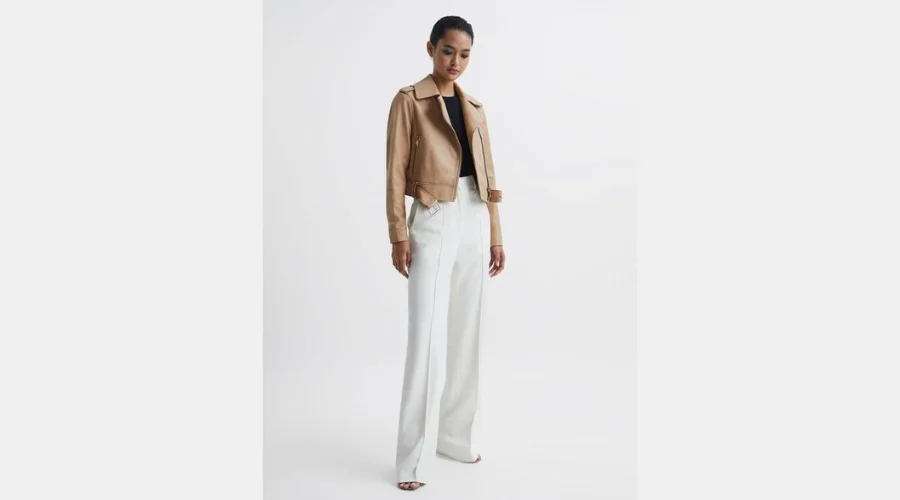 Among the well-designed short leather jackets is this Tyler biker jacket, which comes with silver hardware accents in a neutral hue. A unique aspect of this short leather jacket is that it has a belt at the waist to cinch and accentuate your profile. The zipped side pockets enhance functionality and can be worn with heels and trousers. It is made entirely out of sheep leather with long and zipped sleeves. It also has notch lapels and epaulettes. Such a feature makes it a little similar to the Santiago jacket, but both have unique features.  
Also read : Accessorizing for Winter: Exceptional Scarf for Men
---
4 . Leather Biker Jacket in Black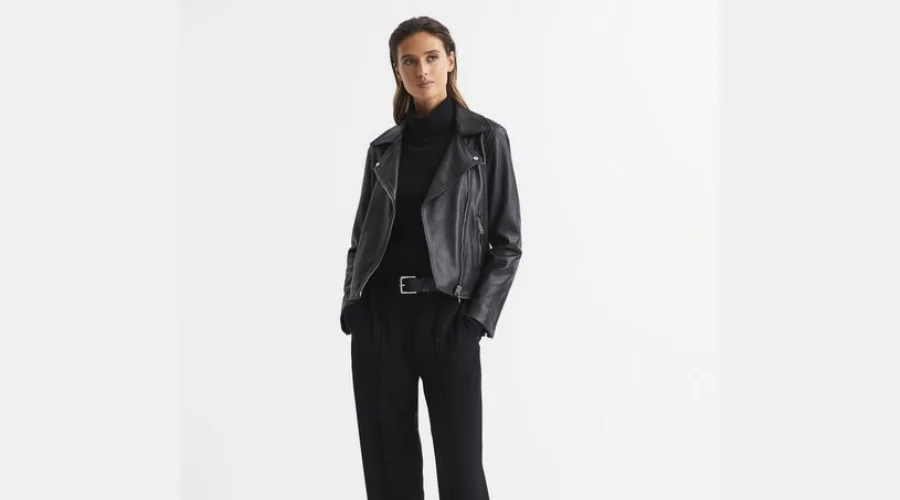 This classic black leather jacket by Geo is made from the best premium leather and styled with side pockets. It also has zip detailing along with the classic short leather jacket collar. The amazing jacket has a feminine fit, an elegant silhouette, and straight sleeves. You can layer it over any turtle neck or halter neck top or wear it with something plain. No matter what you pair the short leather jacket with, it will look good and elevate your appearance.
---
5 . Suede Biker Jacket in Blue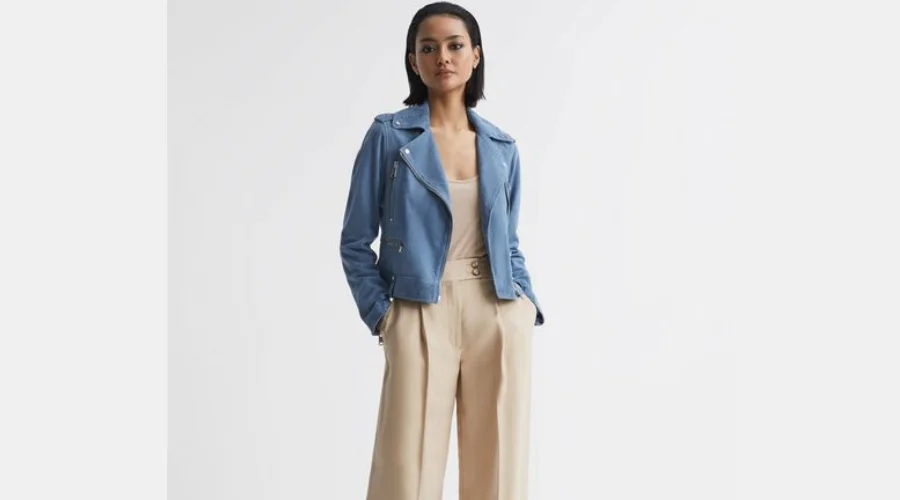 This blue Santiago short leather jacket has the classic biker silhouette in its amazing suede collection. It also has studded silver-tone hardware, zipped cuffs, four zipped pockets, epaulettes, and notch lapels. Also, the main fabric of the jacket is entirely suede, whereas the lining is entirely polyester. The jacket brings you high functionality with the number of pockets it provides. You can wear the short leather jacket in any season with either boot-cut trousers or wide-leg trousers and heels. Such a combination would provide a sleek appearance that is always attractive.
---
6 . Shearling Overshirt in Brown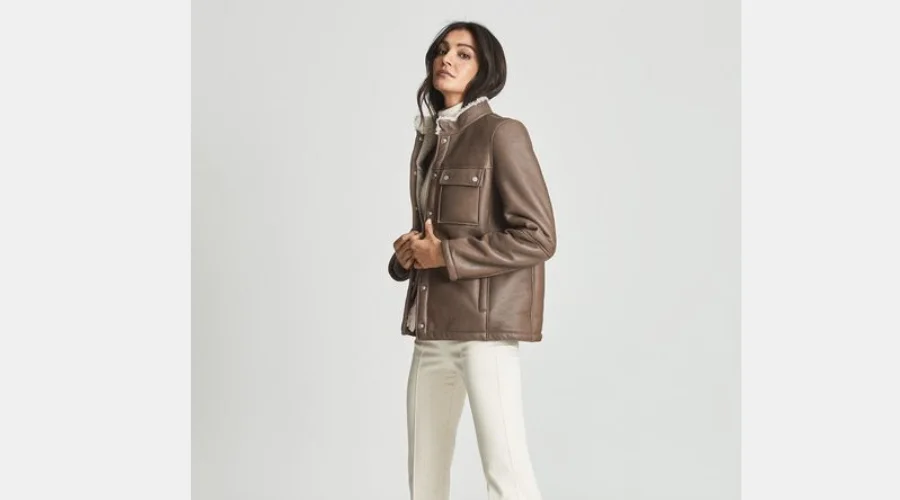 This premium brown Brie leather overshirt works as a jacket and has a timeless appearance. It has been made from the curly Spanish merino shearling with a supple Nappa leather finish. There are pressed studs at the centre front close and the flap pockets. You can wear this overshirt or short leather jacket with trousers and a jumper. The brown colour of the overshirt could also be balanced with white trousers or some other colour that highlights the jacket. But no matter what you pair it with, short leather jackets always look good and make you look irresistible. 
---
7 . Aviator Leather Jacket in Brown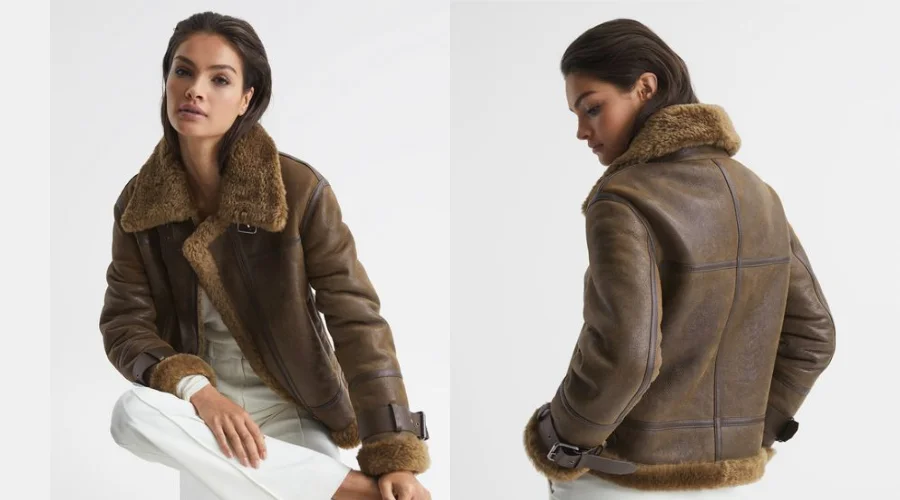 This Daia jacket is unique for its craft and look. It has been lined with shearling and made with grained leather. It makes it look both classic and warm. The unique Aviator leather jacket has a rustic look and a throat latch. You get buckle cuffs on the neck and sides, and side slip pockets. You can pair the jacket with bootcut trousers in black or white and pair it with boots. The entire look would turn out to be strong and earthy. If that is what you prefer, this can be a perfect aviator leather jacket.
---
Conclusion
When you set out to purchase a good short leather jacket on Reiss, you can expect a high price range. But at the same time, you also get authentic leather made with the best designs. Moreover, it is specially made for a feminine figure which makes your body look flattering while also providing warmth. 
If you feel that black is not your colour, then short leather jackets come in many other colours, such as brown, blue, off-white, and some other colours that you could experiment with. But a classic black leather jacket is incomparable and would go with whatever you pair it with. For more such blogs, visit Celebzero.
FAQ's