A beautiful garden enhances the aesthetic appeal of your home while providing a space for relaxation and outdoor activities. Your garden is a canvas waiting to be transformed into a beautiful outdoor haven. Whether you dream of a charming cottage garden or a modern, minimalist retreat, garden paving, with its versatility and functionality, can be the artistic brushstroke to your outdoor space. In this blog, we'll explore some top garden paving slabs with CelebZero and some creative garden paving ideas that can help you design an inspiring and functional outdoor space.
1. Top garden paving slabs for an aesthetic outdoor space
1. Ultipro Farndon Utility Paving Slab 600 x 600 x 38mm Natural
The Ultipro Farndon Utility Paving Slabs are a practical and cost-effective choice for creating flat surfaces in your outdoor space. Made from durable textured concrete, these slabs offer longevity and a natural-looking finish, blending seamlessly with your garden or landscaping design. These garden paving slabs are particularly well-suited for applications like shed bases and ground leveling, providing a stable foundation.
---
2. Talasey Natural Indian Sandstone Classicstone Project Pack 22.20m² Harvest Pack size 75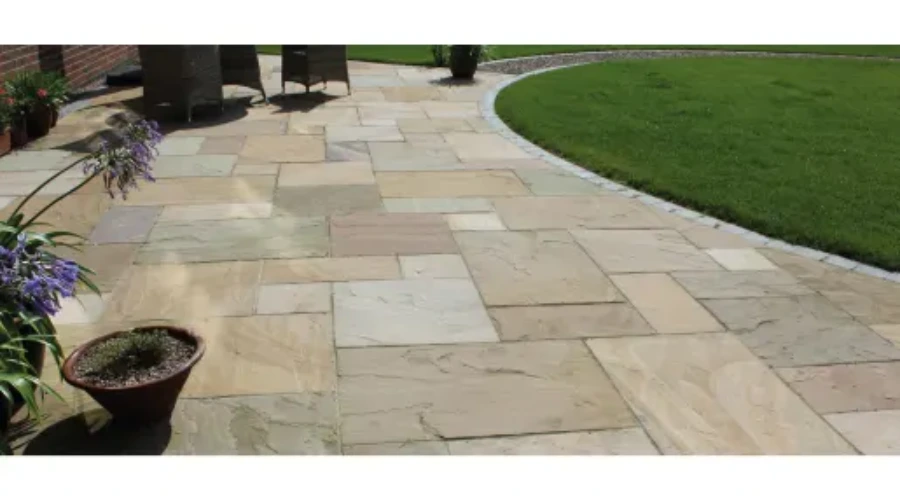 The Talasey Natural Indian Sandstone Classicstone Project Pack is a versatile and visually appealing choice for a wide range of landscaping projects. It's natural Indian sandstone construction ensures durability and a classic look. Additionally, the ease of installation makes it a convenient choice for DIY enthusiasts and professionals as well.
---
3. Ultipro Farndon Utility Paving Slab 450 x 450 x 32mm Buff
The Ultipro Farndon Utility Paving Slabs are a reliable choice for creating flat surfaces in various outdoor applications. Crafted from durable textured concrete, these garden paving slabs offer the strength and longevity needed for tasks like constructing shed bases and leveling uneven ground. Their cost-effective nature makes them an economical choice for those seeking affordability without compromising on quality.
---
4. Marshalls Indian Sandstone Project Pack 18.28m² Buff Multi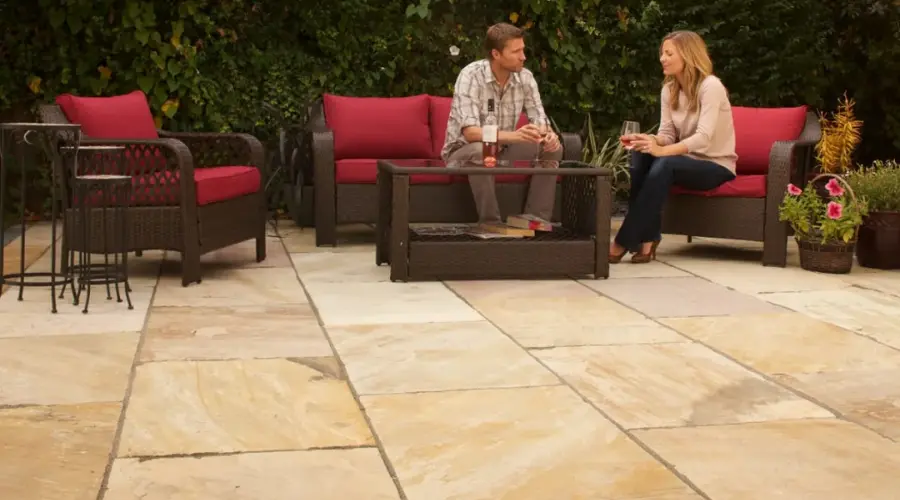 The Marshalls Indian Sandstone Project Pack in Buff Multi, covering an extensive 18.28 square meters, offers a cost-effective solution for your landscaping needs. These garden paving sandstones are known for their durability, promising a long-lasting and low-maintenance outdoor space. Additionally, they adhere to the British Standard for design and installation, ensuring a quality result in your landscaping projects.
---
5. Marshalls Textured Paving Slab 600 x 600 x 32mm Buff
The Marshalls Textured Paving Slab, measuring 600 x 600 x 32mm in Buff, is a versatile modular paving block designed for exceptional durability and strength, making it suitable for a wide range of applications, including highways and pathways. Additionally, the increased thickness of concrete pavements at the edges, thanks to integral curbs, improves strength and stiffness while reducing deflections caused by traffic loads. With the added benefits of being asbestos emission-free, weather-resistant, and exceptionally strong, this paving slab is a reliable choice for various outdoor projects.
---
6. Vitripiazza Bellstone Porcelain Flagstones 600 x 600mm Storm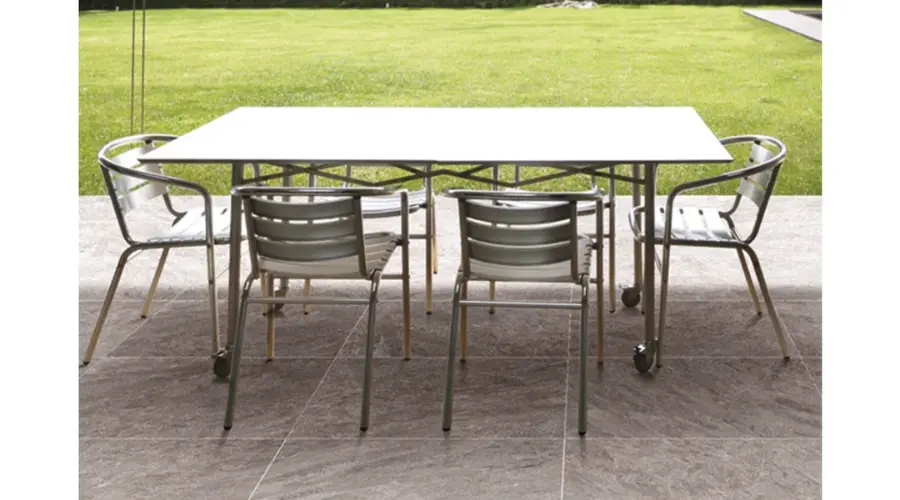 The Vitripiazza Bellstone Porcelain Flagstones, measuring 600 x 600mm and available in the Storm color option, bring the timeless beauty of riven natural stone to your outdoor space.  These flagstones are crafted from high-quality vitrified porcelain, ensuring exceptional durability and longevity. These garden paving slabs are not only resistant to moss, mold, and pesticides but also feature full-bodied porcelain construction, meaning the entire flagstone is composed of pure porcelain.
---
2. Creative garden paving ideas 
1. Classic elegance with natural stone pavers
Natural stone pavers create a timeless elegance. Opt for materials like limestone, sandstone, or granite in shades of gray, beige, or warm earth tones. Create a patio area with a herringbone or basketweave pattern for a classic touch. These stones are not only visually appealing but also durable, making them perfect for high-traffic areas.
2. Rustic cottage garden paths with brick pavers
For a charming and rustic feel, consider brick pavers. Lay them in winding paths through your garden, surrounded by lush flowerbeds. The weathered and worn appearance of brick adds character and complements the cottage garden aesthetic. Incorporate vintage garden furniture for a cozy ambiance. 
3. Serene stepping-stone pathways
Stepping stones can add a touch of whimsy and practicality to your garden. Lay circular or irregularly shaped stones through your lawn or flowerbeds to create pathways. Surround them with vibrant ground cover plants for a serene, almost mystical feel.
4. Gravel and pea gravel patios
Gravel or pea gravel patios provide a relaxed and casual atmosphere. These materials allow for excellent drainage, making them suitable for seating areas. Install a fire pit or outdoor seating to create a cozy gathering spot. Add outdoor cushions and lanterns for a charming evening ambiance.
5. Japanese garden with stepping stones
Create a Japanese-inspired garden with carefully placed stepping stones. These garden paving stones should lead to various garden features like a tranquil koi pond, a rock garden, or a meditation area. Add bamboo accents, lanterns, and Zen sculptures to complete the ambiance.
---
Conclusion
Garden paving is a powerful tool for transforming your outdoor space into a breathtaking and functional landscape. By selecting the right garden paving from Jewson, planning a thoughtful design, and ensuring proper installation and maintenance, you can create a garden that reflects your personal style and provides a peaceful retreat for years to come. Experiment with these paving ideas, mix and match materials, and let your garden become a living masterpiece. 
For more information, visit CelebZero.
FAQs