American clothing and accessory shop Gap was established in 1969. It offers a variety of clothing for men, women, & children and is renowned for its casual and classic clothing styles. In addition to having physical locations across the globe, Gap also maintains a website. The company's denim apparel, such as its jeans and jackets, as well as its distinguishing branding and logo, are highly known. Over the years, Gap has collaborated with different designers and brands for special collections and partnerships.
This time, American lifestyle retailer Gap and multinational toy company Mattel, Inc. have teamed up to create a Barbie-inspired clothing collection " Gap x Barbie collection " before the movie Barbie, which will be released in theatres everywhere on July 21 July starring Margot Robbie as Barbie, and Ryan Gosling as Ken.
Mattel is a renowned American multinational toy manufacturing company. Barbie, Hot Wheels, Fisher-Price, and American Girl are some of Mattel's most well-known trademarks. Mattel, which was founded in 1945, is renowned for creating a wide variety of toys and activities. Barbie, in particular, is one of Mattel's iconic and best-selling toy lines, featuring fashion dolls that have been a cultural phenomenon since their introduction in 1959. Mattel continues to innovate and expand its product offerings, creating toys and entertainment experiences for children and collectors worldwide. To bring their characters and trademarks to life in various types of media, Mattel creates and licenses a variety of entertainment properties, such as films, TV series, and digital content.
Gap x Barbie Collection
The Gap x Barbie collection will feature several T-shirts, branded sweatshirts, skirts, jeans, button-down shirts, and accessories, in addition to pet clothing. Prices for these items will range from 24-69 dollars, and they will all be made using Gap's product iconography, which incorporates vintage Barbie branding and the retailer's distinctive arch typeface. The Gap Barbie collection exemplifies two legendary companies working together to create enjoyable, family-friendly apparel. Having said all of that, let's look at some of the products from the Gap x Barbie collections that are out.
Since the movie's announcement, a lot of buzz has been around it, especially among 90s kids who grew up with Barbie dolls and who, in addition to playing with them and being familiar with all of the characters, felt them to be a big part of their childhood.
List of Gap x Barbie collections
1. Gap × Barbie ™ kids hoodie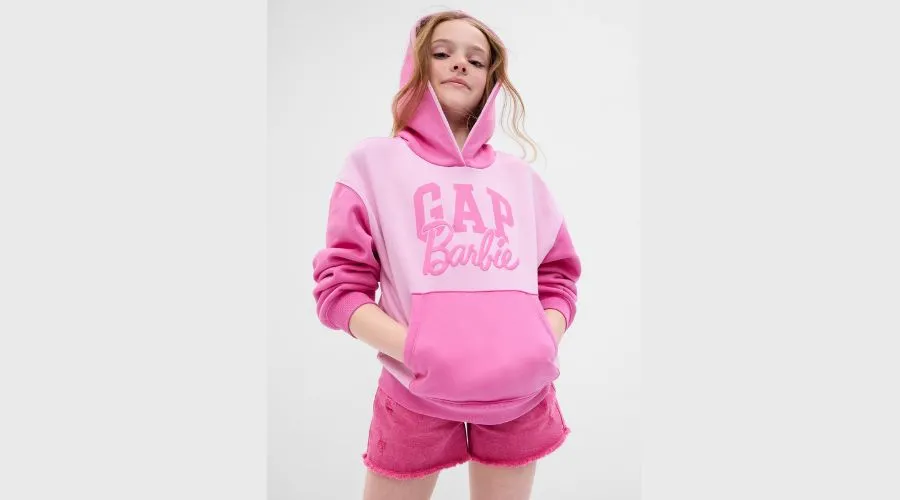 Gap × Barbie™ Kids Hoodie is a popular clothing item from Gap x Barbie collection for children, providing comfort, warmth, and style. They come in a pink color with a "GAP Barbie" on it and have different sizes to suit different preferences. It features a hood at the back, a front zipper or pullover style, and a kangaroo pocket in the front.
---
2. Gap × Barbie™ kids high-rise logo denim skirt
Their Gap × Barbie™ Kids Hoodie can be paired with their Gap × Barbie™ Kids High Rise Logo Denim Skirt with Washwell for a relaxed and everyday look, or dressed up with sandals for a more polished ensemble. Their Gap × Barbie™ Kids High Rise Logo Denim Skirt with Washwell is a trendy and stylish denim skirt designed for children. It features a high-rise waist, which sits above the natural waistline, giving it a modern and fashionable look. This type of compo is suitable for various occasions, from casual outings to more dressed-up events. The logo detailing adds a touch of branding and visual interest to the skirt, giving it a distinct and fashionable appeal.
---
3. Gap × Barbie™ toddler puff sleeve icon denim jacket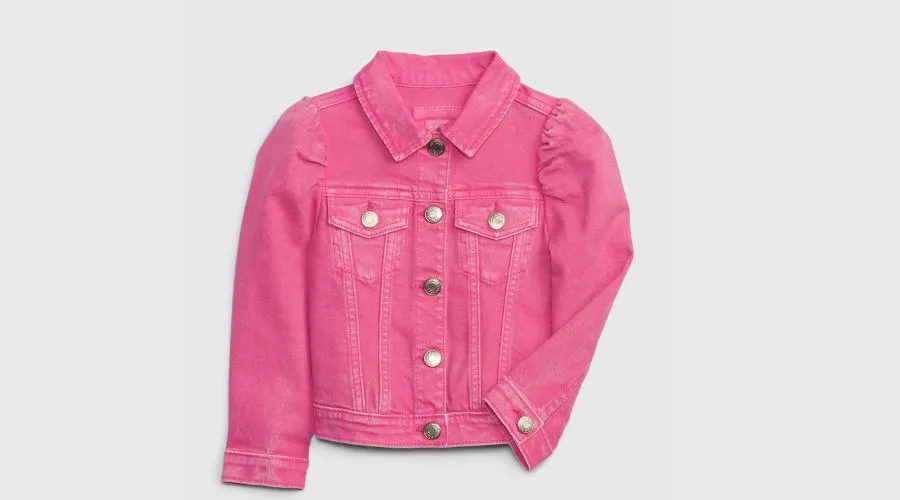 Gap × Barbie™ Toddler Puff Sleeve Icon Denim Jacket with Washwell is a stylish and trendy denim jacket designed specifically for toddlers. It features puff sleeves, which add a touch of volume and playfulness to the jacket's silhouette. Due to the denim fabric's durability and adaptability, the jacket can be worn in a variety of climates and settings. This toddler-sized denim jacket can be paired with their Gap × Barbie™ Toddler Arch Logo Tank Top. It can be worn as a light outer layer during transitional seasons or as a stylish addition to a toddler's wardrobe.
---
4. Gap × Barbie™ kids arch logo rib tank dress
The Gap × Barbie™ Kids Arch Logo Rib Tank Dress is adorned with the iconic logo Barbie GAP which is a distinctive branding element associated with the brand offering this product. A touch of branding and flair is added by conspicuously placing the logo on the front or back of the dress. It can be layered with a cardigan or jacket for chilly months or worn on its own during the warmer ones. It can be paired with sneakers or sandals for a casual look or dressed up with accessories and flats for a more formal or dressy occasion.
---
5. Gap × Barbie™ kids recycled arch logo metallic backpack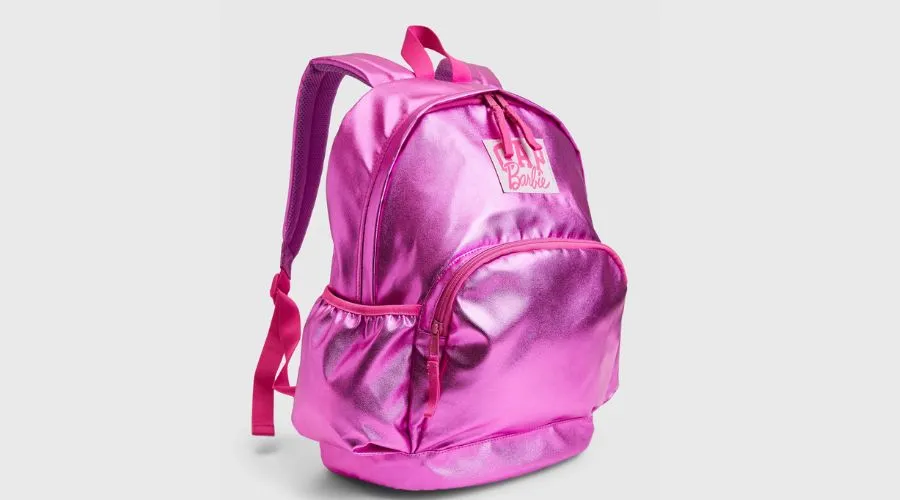 The Gap × Barbie™ Kids Recycled Arch Logo Metallic Backpack is a stylish and eco-friendly backpack designed for kids. This backpack is made from recycled materials, emphasizing sustainability and reducing environmental impact. The metallic finish adds a touch of shine and visual interest to the design. With its functional design, the Gap × Barbie collection Kids Recycled Arch Logo Metallic Backpack provides ample storage space for children's belongings. It includes multiple compartments and pockets, allowing for organized storage of school supplies, books, snacks, or personal items. The adjustable straps ensure a comfortable fit, and the backpack's durable construction ensures it can withstand the daily activities of active kids.
Conclusion
The Gap × Barbie collection is a highly anticipated collaboration that brings together two iconic brands in the world of fashion and play. This collection perfectly blends Gap's timeless and casual style with Barbie's iconic and vibrant aesthetic. From trendy denim pieces to playful graphic tees, the Gap × Barbie collection offers a range of stylish and fun options for kids and adults alike. With attention to detail and a nod to Barbie's fashion heritage, the collection features unique elements such as Barbie-inspired prints, logos, and iconic imagery. Whether it's a Barbie-themed hoodie, a denim skirt with Barbie accents, or a logo-emblazoned dress, each piece captures the essence of Barbie's timeless charm and Gap's signature comfort. For more information on the Gap × Barbie collection, visit CelebZero.
FAQs