Welcome to the paradise of the Florida Keys, where sun-kissed shores, crystal-clear waters, and vibrant marine life await your arrival. Nestled off the southern coast of Florida, the Florida Keys encompass a chain of breathtaking islands, each with unique charm and allure. Renowned for its picturesque landscapes, this tropical archipelago offers abundant natural beauty, making it an ideal destination for an unforgettable vacation. From the vibrant coral reefs of Key Largo to the serene beaches of Marathon and the lively streets of Key West, Florida Keys offer diverse attractions and activities. Immerse yourself in thrilling water sports, embark on a fishing adventure, or unwind on pristine sandy beaches. With VRBO's Florida Keys vacation rentals, you can indulge in the ultimate home-away-from-home experience, where comfort, convenience, and stunning ocean views await. Escape to the vacation rentals the Florida Keys has to offer and create memories that will last a lifetime.
Top 5 Florida Keys Vacation Rentals 
1. Tides on Simonton
Experience the ultimate vacation rental in Key West, Florida, at TIDES ON SIMONTON. This idyllic getaway, located just off the vibrant Duval Street, offers a welcoming one-bedroom apartment perfect for couples or small families. Immerse yourself in the tranquil ambience of the beautifully decorated interior adorned with soothing colours, nautical accents, and tropical vibes. The space exudes an airy feel, thanks to the hardwood floors, high ceilings, and abundant natural sunlight. Prepare your meals in the fully equipped kitchen and savour them in the cosy dining area. Indulge in the newly renovated bathroom's stand-up shower for added comfort. 
With its unbeatable location, you'll be only steps away from Duval Street's shopping, art galleries, and renowned restaurants. Explore popular attractions like the Southernmost Point, South Beach, and the Ernest Hemingway Home and Museum, all within easy reach. Enjoy nearby Simonton Beach and other picturesque coastal spots for sunbathing and relaxation. Parking options are available in the surrounding neighbourhood or nearby Old Town Parking Garage. This pet-friendly property ensures you can bring your furry companions along. Wendy Zintsmaster & Team, esteemed premier hosts, provide exceptional service and can assist with planning activities and excursions during your stay. 
Their concierge service covers everything from bike, scooter, or golf cart rentals to thrilling water adventures like snorkelling and sunset cruises. For added convenience, they can even stock your fridge with essentials before you arrive. Immerse yourself in the local lifestyle at TIDES ON SIMONTON, where comfort, convenience, and tropical charm combine for an unforgettable vacation in Key West, Florida.
---
2. Paradise Found
Discover Paradise Found, an enchanting holiday hideaway in Key Largo that beckons with its cosy ambience, two exquisite bedrooms, and a single bathroom that is a sanctuary for your senses. The property is replete with a shimmering pool, a kitchen that is fully stocked and equipped, free WiFi, and a divine outdoor area that boasts a barbecue grill. Recently upgraded, this abode has an updated bathroom and kitchen and is close to John Pennekamp Coral Reef State Park and MarineLab Undersea Laboratory. A marina is also available, and it can accommodate boats that are up to 25 feet long. Paradise Found is a tranquil and harmonious retreat that will appeal to nature aficionados and water lovers alike.
---
3. Spacious Home on the Gulf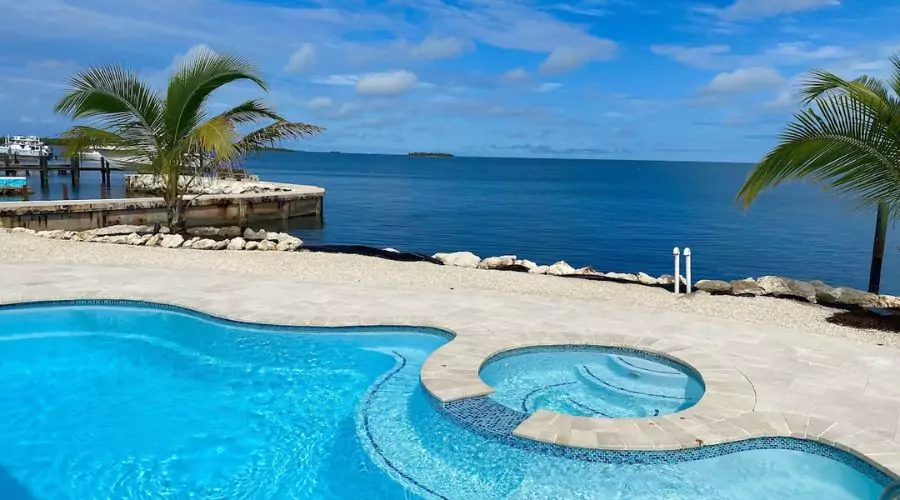 Experience the ultimate Florida Keys vacation rentals at this spacious home directly on the Gulf. With stunning views and beautiful sunsets, this property offers a dream-like retreat. Imagine waking up to the sound of the waves, making coffee in your room, and enjoying it on your deck overlooking the Gulf Waters. The house features four bedrooms, including two master suites, each with its en-suite bathroom and deck. You'll have access to a private pool, hot tub, and a deep water dock for your boat. Plus, two kayaks are included for you to explore the crystal clear waters right from your steps. If you do decide to venture out, there are numerous beaches, restaurants, and shopping options nearby. Make your Florida Keys vacation unforgettable with this exceptional rental.
---
4. Bella Capri
If you're planning and looking for Florida Keys vacation rentals, Bella Capri in Key West is an exceptional choice. This magnificent 5-bedroom Mediterranean villa offers a luxurious and private retreat for you and your travel companions. The property features a refreshing pool, a breathtaking outdoor plaza, and endless gardens, providing a serene atmosphere to unwind and relax. The villa boasts a gourmet kitchen with top-of-the-line appliances and a large entertaining island, perfect for preparing meals and enjoying quality time with loved ones. With its beautifully appointed bedrooms, hand-painted finishes, and seamless indoor/outdoor living spaces, this rental captures the essence of Key West's famous lifestyle. Additionally, its prime location in Midtown provides easy access to popular attractions like Higgs Beach, Salute Restaurant, Louie's Backyard, and the White Street gallery district. Whether you're seeking a peaceful getaway or an adventure-filled vacation, A Bella Capri in Key West and its array of amenities will ensure an unforgettable experience for you and your guests.
---
5. Charming Dog-Friendly Home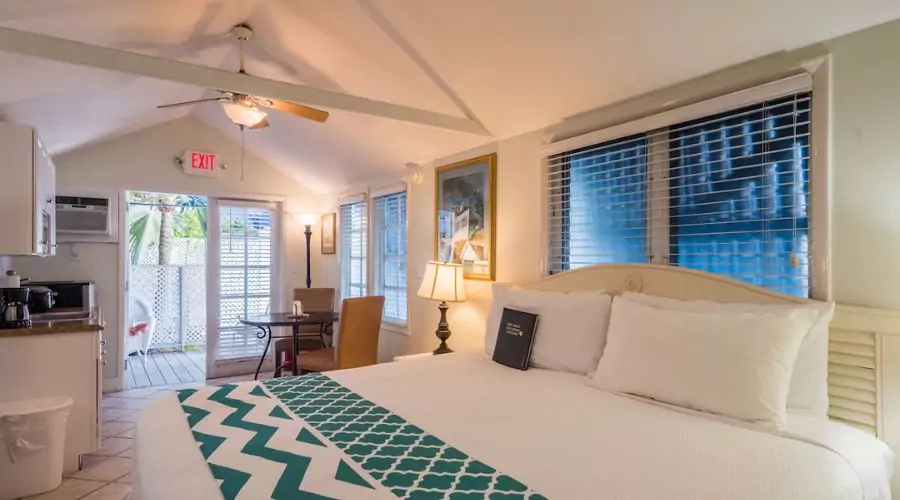 If you're looking for the perfect romantic escape for your next getaway, then this charming dog-friendly home in Key West, Florida, is the ideal choice. With its excellent location in Old Town Key West, just two blocks from the picturesque Higgs Beach area, you'll have easy access to all the local attractions. The rental offers a shared pool where you can relax and soak up the sun, and the cosy apartment provides all the amenities you need for a comfortable stay, including a kitchen, washer, dryer, and air conditioning. The property is nestled in a quiet residential neighbourhood, ensuring a peaceful atmosphere for you and your special someone. Take a stroll to the nearby Southernmost Point, explore the vibrant Duval Street, or enjoy a meal at one of the many dining spots in the area. With its romantic ambience and convenient location, this one of the best Florida Keys vacation rentals is perfect for a memorable retreat.
---
Conclusion
VRBO offers Florida Keys vacation rentals with an unparalleled experience for those seeking a tropical paradise getaway. Whether you choose the vibrant streets of Key West or the serene beaches of Marathon, these VRBO vacation rentals in the Florida Keys provide comfort, convenience, and breathtaking ocean views. From the idyllic Tides on Simonton in Key West to the enchanting Paradise Found in Key Largo, each property offers its unique charm and amenities. Whether you're looking for a romantic escape, a family-friendly retreat, or a luxurious villa, the VRBO vacation rentals in the Florida Keys cater to every need. Immerse yourself in the beauty of the Florida Keys and create lasting memories in these exceptional vacation rentals with Celebzero.
FAQs