The best sequin dresses bring in a feel of elegance, festivity, and beauty. For any occasion, be it a holiday, a wedding, a party, or New Year's Eve, a little shimmer and sparkle always make a long-lasting impression. We need not limit the use of sequins only to a few days on the calendar.
Sequins are an important element in the fashion business, and the top designers are trying to tap into their potential to include sequins in fabrics and garments that suit all occasions. Experimenting with different combinations and patterns for the inclusion of sequins in apparel for everyday use has become the need of today.
Life is too short to open your closet to boring outfits. Adding a bit of shimmer and shine to your life would bring sparkle to every eye when they are on you. However, searching for the best sequin dresses that suit your required occasion can be a time-consuming experience. Also, every body shape and size demands a different apparel pattern to make it a comfortable fit. However, Karen Millen is here to make things easy for you.
Here are some of the best picks from Karen Millen that would make you comfortable in your skin and make your closet shimmer with joy.
List of the best Sequin Dresses from Karen Millen
A little shimmer is forever in style, and for good reasons. So here is a list of some of the best sequin dresses that would add a touch of class and sparkle to your closet:
1. Disc Sequin Strappy Woven Mini Dress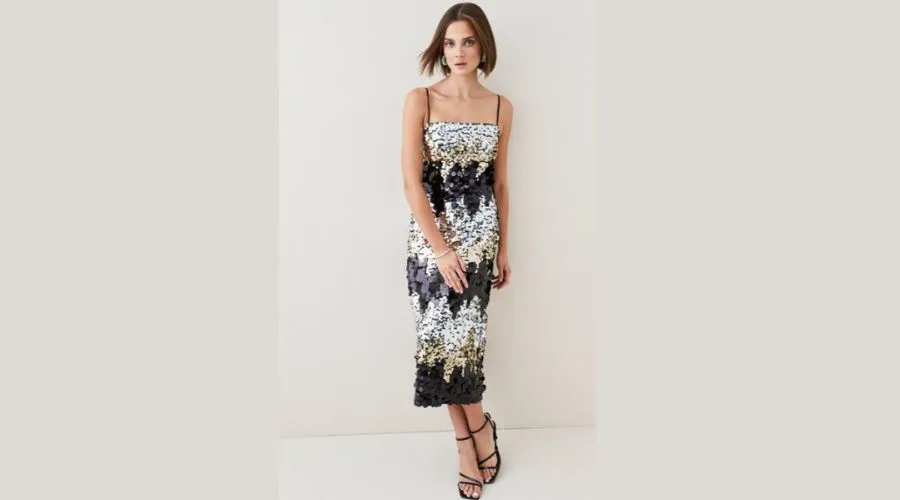 Be sure your closet has this masterpiece of elegance and class. This Disc Sequin Strappy Woven Mini Dress is one of the best sequin party dresses. Its sleek shoulder straps hold on to you with care, and sequins combine to make an elegant silhouette.
Tonal sequins merging into shades of black and gold add an electric edge to the dress. You can further style it with sleek black strappy heels and an elegant bracelet to complete the look. Your evening will be memorable with one of the best sequin dresses Karen Millen offers.
---
2. Sequin and Beaded Fringed Woven Mini Dress
Heading over to an eventful night at a club with friends? Or are you looking for a bright sequin dress? Whatever the case, this sequin-beaded dress will be a sure-shot choice for you. This woven mini dress is detailed with gleaming tassels and lime-green beads. It can catch on the smile on your lips and reflect it beautifully. Other details of the dress include a round neckline, a perfect sleeveless fit and a mini hemline to accentuate the glamorous club-ready look.
The dress fits easily on the curves and adds a touch of class and glamour to your look. Slay the look by adding coffee-brown wedge heels; you will be ready to rock.
---
3. Liquid Sequin Woven Halter Dress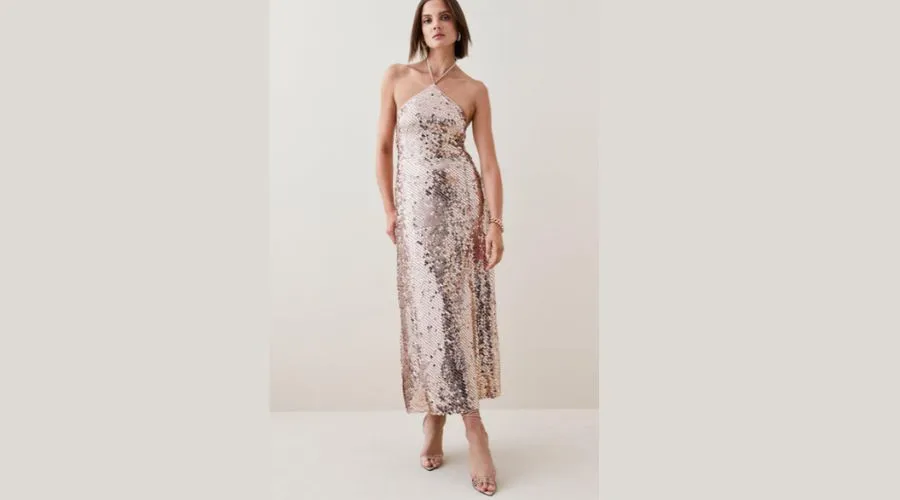 If you are looking for a formal-party option, this rose gold sequined maxi dress would be the right fit. Simple yet elegant, this plain woven maxi dress will add all the glamour and class required for the occasion. This dress brings out a sophisticated yet festive look with a strappy sleeve length and a halter neckline. With a slight slit and a strappy backline, this dress glides effortlessly over the body, making you feel comfortable.
You may proceed with hooped rose gold shimmer earrings and a pair of strappy champagne-hued heels to complete the look.
---
4. Mixed Sequin and Beaded Fringed Mini Dress
A sequin-beaded, almost pastel-palette dress would be perfect for a vacation. The fringed mini dress has a strappy shoulder and back that hold on the fit. Embellished with detailed beadwork, this dress is a show-stopper. Also adorned with colourful floral motifs and a multi-layer tasselled hemline, this is one of the best sequin dresses for a holiday or a vacation.
The dress brings an amazing feminine flair and is a perfect fit for a casual wear option on an outing. However, one should note that this is a limited-edition dress.
---
5. Sequined Jersey Mini Dress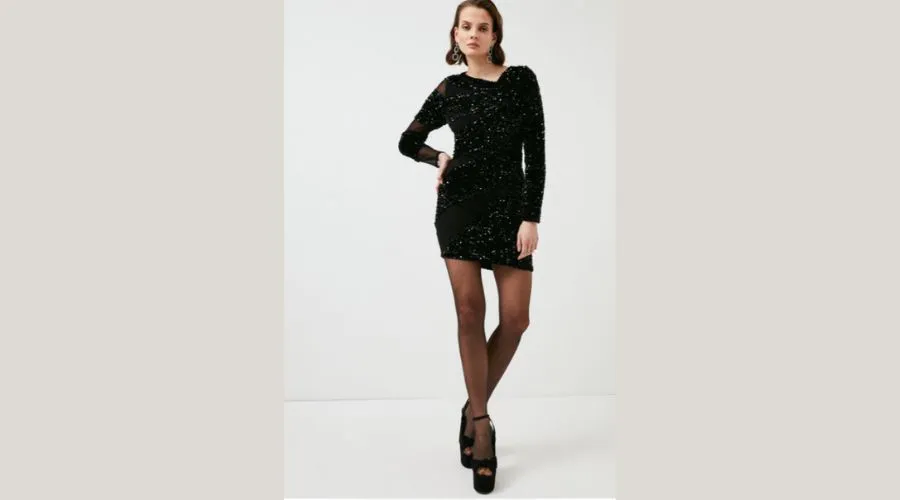 Every fashion enthusiast's closet must have that little black dress. What makes it even better? Sequins in black would be the answer to that question. The Sequined Jersey Mini Dress comes embellished with detailed grown-up sequins, making for a streamlined silhouette. The asymmetric neckline, long sleeves and mesh insets make this dress perfect for illuminating the dance floor.
Combined with black block heels, this is surely a conversation-starting ensemble. Just confidently walk the floor and let the detailed sequins talk.
---
Conclusion
These are some of the best sequin dresses brought to you by Karen Millen. Sequined dresses would be a part of evergreen fashion and will continue to add a touch of spark to your closet. If you want to know more about fashion, visit Karen Millen and the official website of Celeb Zero.
FAQ's