Loungewear emerged when nightwear and luxury merged. Loungewear has become increasingly popular on social media during the past few years. The excitement surrounding loungewear has been embraced by some of the most influential voices in fashion, including Vogue. Even outfits with best plus size loungewear influences made it onto the catwalk. Oversized knitwear, loungewear sets, and chic jogger bottoms are now commonplace in fashion. The style emphasises being comfy with an extra sense of sophistication and sass through soft, elastic materials. This season, laze in style with this assortment of the best plus size loungewear. Their selection of new-season loungewear has you covered, whether lounging at home, doing errands, or going to the gym. Enjoy a relaxing Sunday in cosy matching sofa sets. Shop the collection of lounge bottoms, including wide-leg lounge pants and joggers. Put on a lounge top with your hoodies and sweatshirts for effortless style. 
Top plus size loungewear by Yours Clothing
With this collection of the best plus size loungewear, your comfort is elevated to a whole new level. Curve loungewear in UK sizes 14–40 allows you to create countless lounge outfits to adore. With a variety of joggers and leggings sets with cute prints and fun slogans to choose from, you can find matching best plus size loungewear that you can wear from the sofa to the front door.
1. Black & Red Check Print Fleece Live Set From Yours Curve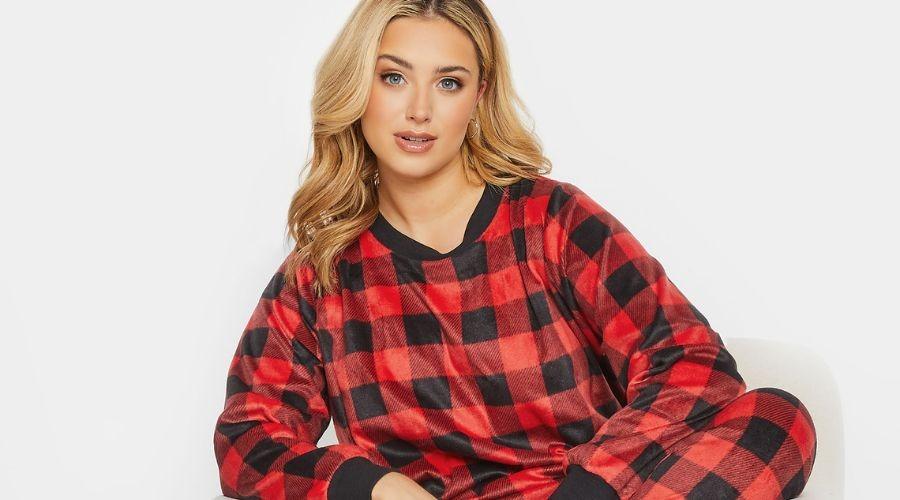 In this plus-size lounge set, unwind this season. It has long sleeves, a scoop neckline, an elasticised waistband, and cuffed legs. It is made of a thin fleece fabric. Combine with pyjamas for a day in. It's perfect for the holiday season due to the check print. This best plus size loungewear comprises long sleeves and elasticised cuffs and hems. It boasts a smooth, 100% polyester waistline and a comfortable fleece fabric with a scoop neckline. It is washable in a machine. More individuals are working from home, so it's important to look professional while still feeling comfortable. This outfit makes it possible. It's available in sizes ranging from 14 to 40 for £19.99. 
---
2. Star Print Grey Lounge Set
Need a new pair of pyjamas? Try out this outfit of ultra-soft fleece with the best plus size loungewear. Designed with long, comfortable sleeves and cuffed hems for the perfect couch potato. Prepare for the cosiest night by pairing your outfit with lovely slippers. Consider this stylish loungewear from Yours Clothing instead of buying new clothes for a bottomless brunch. With this set, you may switch up one or two pairs of joggers in neutral colours. However you want to style your loungewear, the most important thing is comfort. The dress looks perfect for a day in or a day out, thanks to the crew neckline and star print. All you require for a comfortable stay at home are well-made clothes that may make your busy working and multitasking life more comfortable. 
---
3. Black RELAX Loungewear Set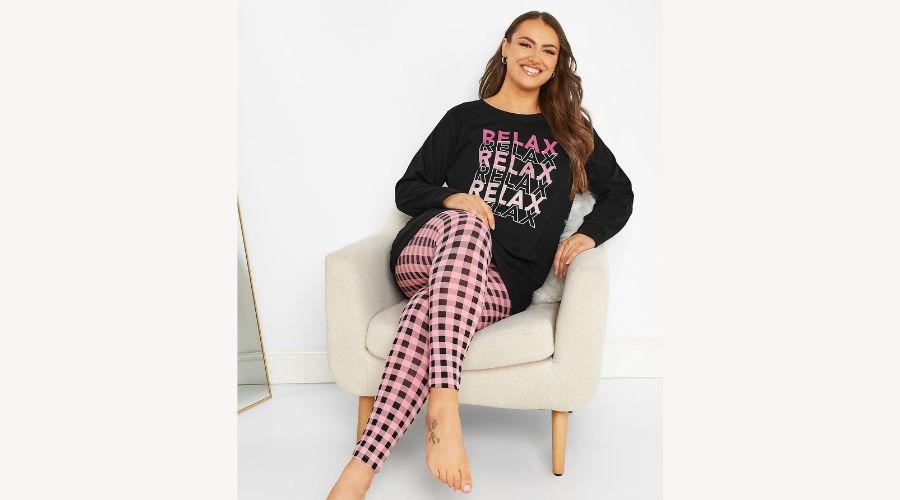 This brand-new best plus size loungewear is a necessity for the upcoming relaxing weekend. It has long sleeves, a relaxed slogan design, gingham pattern bottoms, and is made of soft jersey fabric. You'll keep reaching for this warm look when you pair it with slippers. The best thing about loungewear sets is that you can mix and match them to create entirely new looks. Take this lovely loungewear set with the RELAX graphic, match the T-shirt with your go-to jeans and some trainers, and an ensemble perfect for a coffee date. With a Relax slogan print, long sleeves, a scoop neckline, and gingham print leggings, this set adds a trendy print to your loungewear collection. The loungewear is worth buying because of the elasticised waistband and soft jersey material.
---
4. Pink Soft Touch Knitted Lounge Pants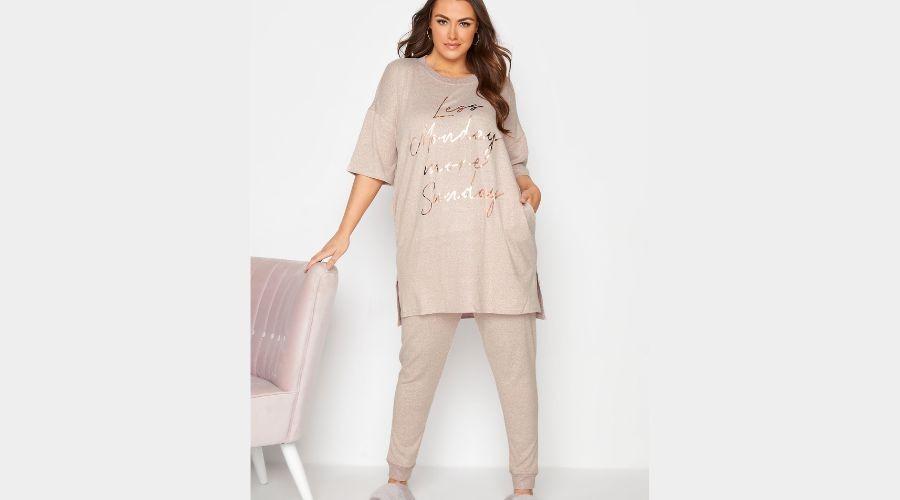 These brand-new lounge pants will spice up your selection of the best plus size loungewear. They are knitted in a soft, comfy material with a high-waisted shape, an elasticised waistband, and cuffed bottoms. For a cosy nighttime look, pair it with the complementary lounge top. The ultimate comfort is offered by knit jumpers and oversized jumper dresses. To be worn or combined with your plush pyjamas. You go out with pals for drinks and dinner while sitting on your balcony. Although the fabric and style keep things casual, it is still ideal for an expedition! The addition of bags, a thin neck chain, and sandals enhance this loungewear ensemble. This lounge set includes a soft knitted fabric cuffed at the bottoms and has a high waistband with elastic.
---
Also Read: Top 5 Dunelm Pillows in 2023
---
Conclusion
That is the appeal of loungewear for women and what distinguishes it from standard pyjamas. Wearing loungewear sets outside the home will give you a relaxed, informal appearance. For a more fashionable everyday appearance, you can mix and match your loungewear items with anything from Jeans and midi skirts to cheap women swing dresses. Read more on Celebzero!
FAQ's