Are you dreaming of a sun-soaked island escape that combines stunning beaches, crystal-clear waters, and a vibrant atmosphere? Look no further than Skiathos, a hidden gem in the heart of the Aegean Sea. A holiday to Skiathos promises a perfect blend of natural beauty, rich history, and warm Greek hospitality, making it an ideal destination for an unforgettable getaway. As you embark on your journey, let On the Beach UK be your trusted companion, ensuring a seamless experience from start to finish. With their exceptional range of package holidays to Skiathos, you can explore this enchanting island without breaking the bank. Whether you're seeking relaxation on pristine sandy shores, exhilarating water sports adventures, or exploring ancient ruins, Skiathos has it all. And now, as we delve into the top hotels in Skiathos, get ready to discover the perfect haven for your dream holiday to Skiathos.
Plan the best holiday to Skiathos with On the Beach
Embark on your Skiathos adventure by wandering through the charming backstreets and stairways of Skiathos Old Town. Immerse yourself in the endless array of unique boutique shops and restaurants that will leave you spellbound.
Marvel at the 17th-century artefact collection atop a hill in a pine forest at the Kollyvades monks' 1794 Evangelistria Monastery. You can either hike or drive up to this fascinating destination.
Take a boat ride to the secluded paradise of Lalaria Beach, Europe's most beautiful beach. The crystal-clear waters and tranquil atmosphere are perfect for unwinding and rejuvenating.
Dive into the clear Aegean Sea and discover Skiathos' underwater world. Whether you're a beginner or an expert, there are diving centres for all levels.
Enjoy stunning views of the island and unforgettable sunsets at Agios Nikolaos Church and Clock Tower, Skiathos Town's cultural highlight.
Experience Skiathos' rich history through its castle ruins, Byzantine monasteries, and Venetian-influenced churches. The island also hosts annual festivals and celebrations that showcase local culture.
Party the night away at Dan and Zoe's Blind Dog while listening to live music and meeting Guy, the blind dog. Phedrock Bar is a quirky sports bar and cocktail lounge, while Totem Bar has a lively atmosphere and live music. For a relaxing evening with waterside views, head to the Gin Fish Bar.
Indulge in Skiathos' mouthwatering Greek food. Hotopita (Skiathos pies) and herb pies are a must-try, as are the almond-flavoured macaroons known as Amygdalota. Don't miss out on the delicious Peskandritsa stew made with lobster, crayfish, and vegetables, or the crayfish with grass in spring. Finally, satisfy your sweet tooth with the traditional Skiathos baklava made with thin pastry, cloves, and walnuts.
Complete your culinary journey by exploring the island's best restaurants. Marmita serves authentic Greek food in a traditional house, while Maria's Pizza is famous for its pizza and Italian food. Enjoy stunning views of Skiathos' Old Harbour at Lo & La, a great restaurant with a terrace and a large menu. Infinity Blue offers Mediterranean flavours and breathtaking island views.
Skiathos has something for everyone, whether you're looking for relaxation, adventure, or culture. Discover the natural beauty, cultural heritage, vibrant nightlife, and delicious food that make Skiathos a must-visit destination.
Top hotels in Skiathos
1. Hotel Skiathos Princess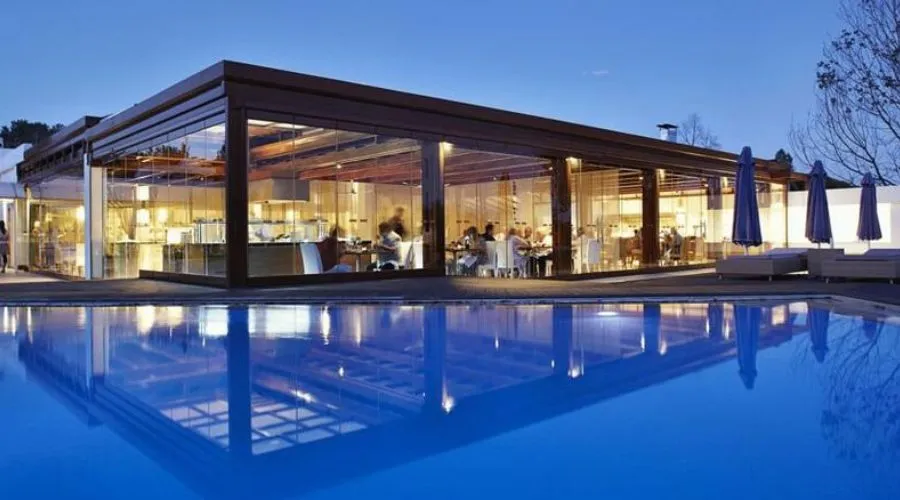 Indulge in the best holidays to Skiathos Town by choosing this exceptional hotel. Prepare to be spellbound by the impeccable service, lavish accommodation, and exceptional facilities that this hotel boasts, ensuring an unforgettable break for families and couples alike. Situated right on the beach, it offers an array of amenities, including a glittering swimming pool and sun terrace, a rejuvenating Wellness centre, and live cooking restaurants. Completely renovated, this hotel guarantees a stay that will linger in your memory forever. Its spacious rooms are equipped with modern amenities, and 24-hour room service is always at your beck and call. With a host of activities on offer, such as beach volleyball, horse riding, and tennis, this hotel is the ultimate refuge in Skiathos Town.
---
2. Elivi Skiathos
Experience the epitome of luxury and relaxation on your cheap holidays to Skiathos at Elivi Skiathos, a stunning five-star resort nestled amidst lush greenery and overlooking the Aegean Sea. With its upscale amenities, including multiple swimming pools, direct access to sandy beaches, and exquisite dining options, this resort offers the perfect setting for a romantic getaway or a deluxe beach holiday with your loved ones. The beautifully-furnished rooms, luxurious villas, and suites provide a haven of comfort, equipped with modern conveniences and stunning views. Indulge in the resort's spa and wellness centre, enjoy fine dining at the various restaurants, and take advantage of the sports facilities and personalised services. With On the Beach, embark on an unforgettable experience at Elivi Skiathos and immerse yourself in pure luxury and tranquillity.
---
3. Skiathos Palace Hotel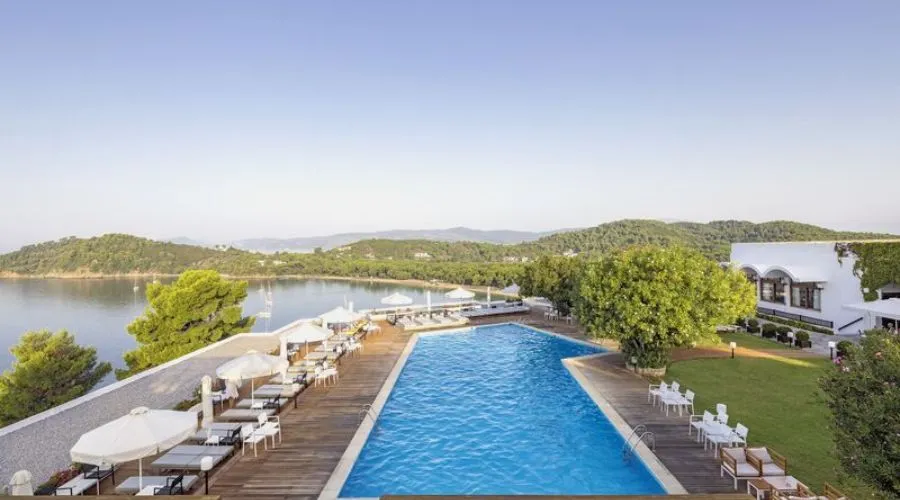 Feel a truly memorable holiday to Skiathos at the Skiathos Palace Hotel, a modern complex nestled by the beach. Nestled in the heart of Greece, this hotel boasts exquisite dining options, tantalising cuisine, and invigorating bars, making it a paradisiacal haven for couples and families craving a soothing escape. The Rooms and Suites, with their plush amenities like air conditioning, satellite TV, and Wi-Fi, come in an array of choices to cater to your every whim. Delight in the succulent culinary delights served a la carte at the main restaurant, or surrender to the traditional Greek fare while basking in the panoramic sea views from the rooftop grill restaurant. Unwind by taking a dip in the grand swimming pool, or challenge your skills on the tennis court. Take a jaunt to explore the stunning Maratha beach, just a stone's throw away. With On the Beach, the Skiathos Palace Hotel is your gateway to unforgettable moments steeped in the splendour of Skiathos.
---
Conclusion
A holiday to Skiathos with On the Beach UK is an invitation to experience a sun-soaked island paradise brimming with natural beauty, rich history, and warm Greek hospitality. With a selection of top hotels like Skiathos Princess, Elivi Skiathos, and Skiathos Palace Hotel, you can immerse yourself in luxury and relaxation. Explore the charming backstreets of Skiathos Old Town, marvel at the Evangelistria Monastery, and unwind at the breathtaking Lalaria Beach. Dive into Skiathos' underwater world, savour mouthwatering Greek cuisine, and enjoy unforgettable sunsets. Whether you seek relaxation, adventure, or cultural exploration, Skiathos has it all, and On the Beach ensures a seamless and unforgettable holiday to Skiathos. For more information,
FAQ's