For those who are new to the fashion world, corsets are taking the world by storm. Especially, after so many series like Bridgerton coming every now and then, the style is here to stay now. So, whether you want a classic corset dress to add to your wardrobe or find an exclusive one that will make you stand out, Karen Millen is one such online retail platform that houses a variety of dresses to choose from.
6 Corset dresses ideas to pull off a stunning outlook
1. Bandage Corset Detail Knit Midi Dress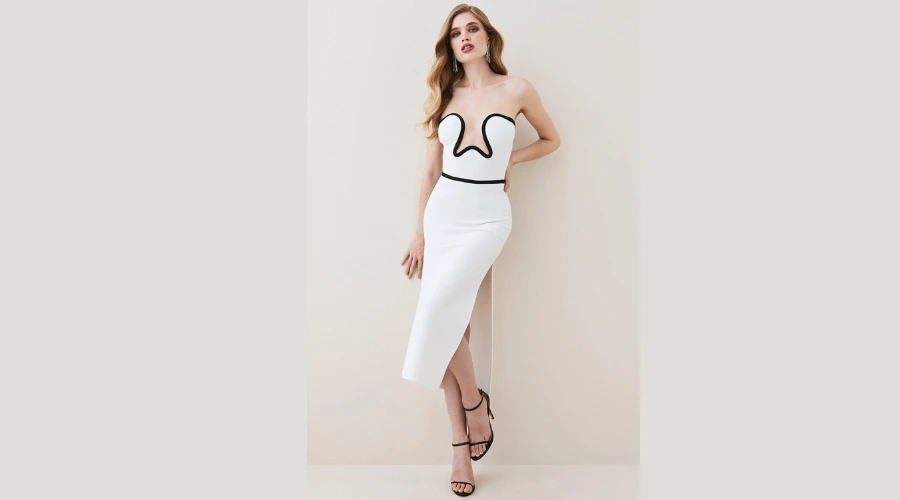 Crafted with artistic curvy lines, this Bandage Corset Detail Knit Midi Dress is designed with a dramatic curved sweetheart neckline. This corset dress, from Karen Millen's 'READY FOR THE FUTURE' category, is made of a recycled polyester and elastane blend that gives it a long-lasting and magnificent appearance.
You can ease into the contouring composition of this bandeau pencil dress with a split hemline and easily pair it with stilettos and some gold jewelry. The corset midi dress is available in 5 different shades- white, cream, red, black, and navy, along with various US sizes ranging from XS-L for $136.
---
2. Petite Corset Detail Floral Pleated Woven Maxi Dress
The Petite Blue Corset Maxi Dress with Floral Print is another great item that is made from 100% polyester fabric. With a pleated design on the lower part of the dress and a corset drawn on the upper part, along with pleated long sleeves, this article is a worthy investment to make.
With a V-neckline and a knot on the back, this corset maxi dress is available at Karen Millen's online portal in various US sizes from XXS-L. So, add in some black wedges along with a stylish sling bag or a clutch, and you are ready for an eventful night for just $186.
Read more: Mini Marvels: Unveiling The Allure of White Mini Dresses
---
3. Beaded Embroidered Lace Corseted Mini Dress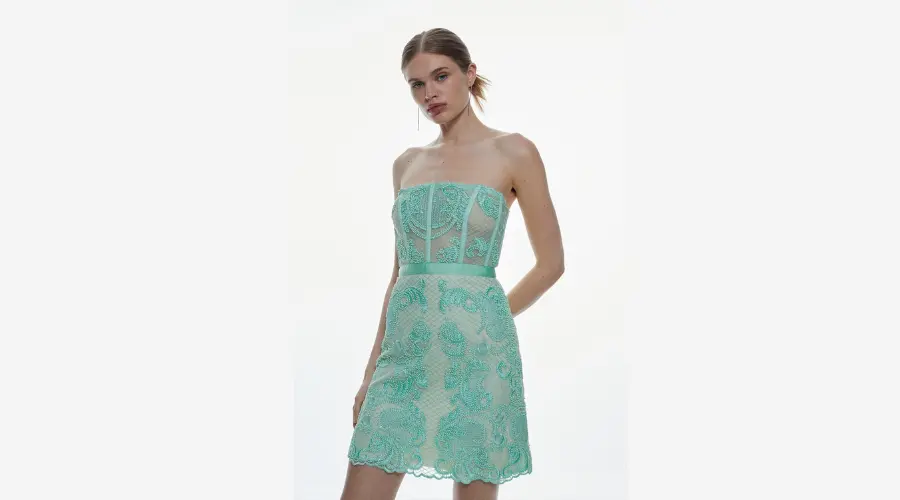 If you want a unique, elegant corset dress that stands out from the rest, this Beaded Embroidered Lace Corseted Mini Dress is what you are looking for. Available in two vibrant colors- Sage and Plush, this piece is embroidered with intricate lace details and beadwork with detachable straps to design it according to your taste.
The dress has a corset bodice that cinches at the waist and comes with a scalloped hemline that adds a feminine touch to the overall outlook. Made with 100% nylon along with a polyester lining, this corset mini dress is available in US sizes XS-L for a cost of $214.
---
4. Italian Structured Jersey One Shoulder Corset Mini Dress
The Italian Structured Jersey One Shoulder Corset Mini Dress offers enough confidence with a corset bodice which is accompanied by a swopping one-should neckline. The black corset dress comes with an Italian structured jersey silhouette, made with a high-quality fabric blend to offer a luscious outlook.
The midi-length with split hem would look fabulous when paired with high heels and silver jewelry making up a perfect look for a high-event or a dinner date you'd been waiting for so long. You can also opt for the bold red color available with various US sizes incorporating XS-L for a cost of $160.
---
5. Leather Corset Waist Black Tailored Mini Dress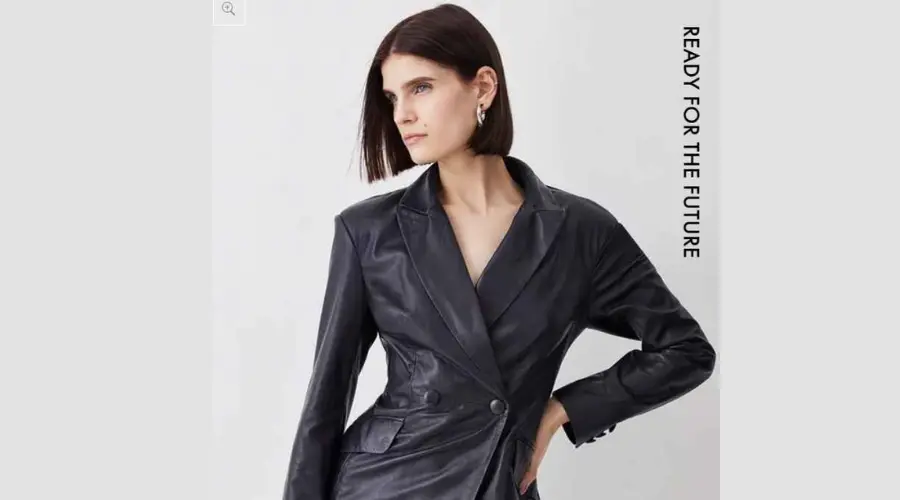 Nothing says classy than pulling off a Leather Corset Mini Dress with style. The tailored corset dress is made from responsibly sourced leather fabric giving it a glossy appearance that makes you bold and ferocious. The coat-styled dress comes with two buttons for closure, a collar, and long sleeves with two pockets on the side.
You can loosen or tighten the dress with the back ties that give it a feminine touch. You can even purchase this dress in a vibrant red shade to pull off a stronger and stylish look. When paired with stilettos and a black leather handbag, this outlook will be one of the best attires you'll never want to take off. It is available in various US sizes from XS-L for a cost of $314.
---
6. Velvet Corset Waist Detail Sleeved Mini Dress
If you want a luxurious outlook but don't want to spend much money on it, this Velvet Corset Waist Detail Sleeved Mini Dress is the perfect solution to buy. The dress is made with an ideal blend of various fabrics that gives it a stylish look and the full-back zipper makes it easier to wear and remove.
Available in navy and plush colors, this corset mini dress incorporates a touch of elegance and boldness that gives you ample confidence to walk up a room filled with people without holding back. Wear this dress with silver studs and a stylish sling-back as you can order it in various US sizes XS-L for a cost of $190.
Also read: The Classic Fashion Industry: Women's Clothing Karen Millen UK
---
Conclusion
Elevate your fashion game by adding corset dresses to your wardrobe. Whether you opt for a regal velvet number or go for a bandeau sweetheart neckline dress with sexy slits on the hem, Karen Millen offers a wide range of selections to choose from. For more fashion inspiration, visit Celebzero.
FAQs