Broderie Anglaise dresses are a style of clothing characterised by delicate and intricate embroidery. The term "Broderie Anglaise" translates to "English embroidery" in French, and it refers to the type of embroidery technique used in creating these dresses. This technique involves creating decorative patterns on the fabric by cutting small holes or eyelets and then embellishing them with intricate embroidery stitches.
The patterns used in Broderie Anglaise dresses often feature floral or geometric designs, which add a touch of elegance and femininity to the garment. The embroidery is typically done on lightweight and breathable fabrics, such as cotton, making these dresses perfect for warm weather and summer occasions. Broderie Anglaise dresses have a timeless and classic appeal, as they have been a popular fashion choice for centuries. Their delicate and intricate craftsmanship exudes a sense of charm and sophistication, making them a versatile choice for various events, from casual outings to more formal occasions.
Leading the way in embracing this classic trend is Nobody's Child, a brand renowned for its exquisite collection of Broderie Anglaise dresses. In this blog, we'll dive into the captivating world of these dresses, discovering why they are a must-have addition to your summer wardrobe.
Nobody's Child: A beacon of sustainable fashion
Ethical and Sustainable Practices: Embracing the values of eco-conscious consumers, Nobody's Child upholds ethical and sustainable practices, utilising eco-friendly fabrics and responsible production methods. Their commitment to the environment reflects their dedication to fashion with a conscience.
Affordable Luxury: Nobody's Child's commitment to high-quality designs doesn't come at a high cost. Their collection boasts affordable luxury, making fashion accessible to a broader audience without compromising on style or quality.
Timeless Designs: With a focus on timeless designs, Nobody's Child presents pieces that defy transient trends. Their Broderie Anglaise dresses exemplify classic elegance that remains stylish season after season.
How to style broderie anglaise dresses
Styling Broderie Anglaise dresses offer endless opportunities to create chic and graceful looks suitable for various occasions. These dresses exude timeless elegance with their delicate embroidery, making them a versatile addition to your wardrobe. Here are some fashion tips to help you style Broderie Anglaise dresses in four different ways:
Casual Chic: For a laid-back and casual look, pair your Broderie Anglaise dress with flat sandals or white sneakers. Opt for a denim jacket or a lightweight cardigan for a touch of effortless style. Complete the ensemble with a straw hat and a crossbody bag for a relaxed summer vibe. This outfit is perfect for weekend outings, brunch with friends, or strolling through the farmers' market.
 Boho Beauty: Embrace a bohemian-inspired look by accessorising your Broderie Anglaise dress with a wide-brimmed hat, layered necklaces, and beaded bracelets. Choose suede ankle boots or leather gladiator sandals for a touch of boho chic. Add a fringe bag or a woven tote to complete the bohemian flair. This outfit is ideal for music festivals, outdoor concerts, or a day of exploring artsy neighbourhoods.
Timeless Romance: For a romantic and feminine look, opt for a pastel or white Broderie Anglaise dress and pair it with elegant strappy sandals or kitten heels. Add delicate pearl earrings and a dainty pendant necklace for a touch of sophistication. Style your hair in loose curls or a soft updo to complement the romantic theme. This outfit is perfect for garden weddings, bridal showers, or an intimate evening date.
Sophisticated Glamour: Dress up your Broderie Anglaise dress with statement heels, a structured clutch, and bold statement jewellery. Consider a sleek updo or a classic bun for a polished and sophisticated look. This outfit is suitable for cocktail parties, evening events, or formal gatherings where you want to make a memorable style statement.
Top broderie anglaise dresses by Nobody's Child
1.   Petite Multi Floral Broderie Mietta Mini Dress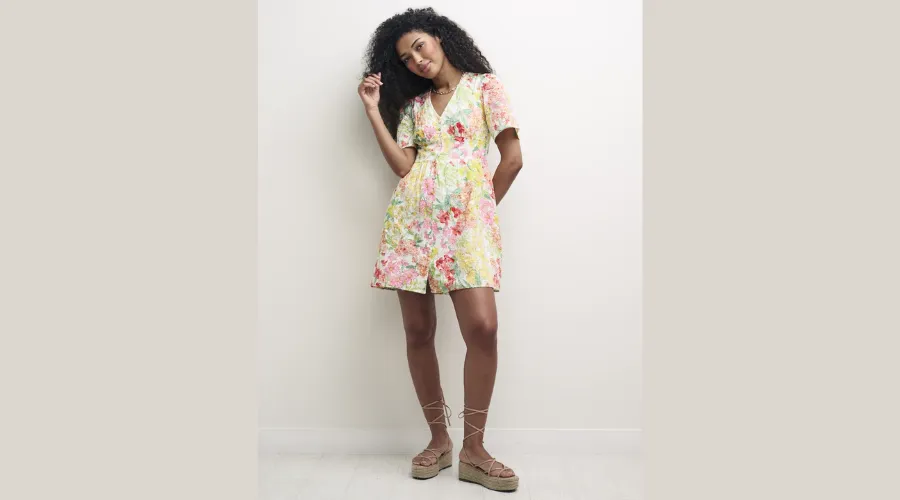 The intricate broderie anglaise embroidery in a medley of colourful florals adds a touch of whimsy and charm to this mini dress. The floral pattern is perfect for embracing the joyous spirit of summer and infusing your look with a burst of vibrant hues. The dress boasts a mini length, ideal for showcasing your legs and exuding a youthful and playful vibe. The shorter hemline enhances the breezy and carefree nature of the dress, making it perfect for warm-weather adventures. Designed with petite sizing in mind, this dress ensures a tailored fit for smaller frames. The proportions are carefully considered to complement and enhance the natural curves of petite figures. Crafted from breathable and lightweight materials, the dress keeps you comfortable and cool during hot summer days. The airy fabric allows for easy movement, making it ideal for outdoor events, beach outings, or daytime gatherings.
2.   Petite Floral Broderie Alexa Midi Dress
The intricate broderie anglaise embroidery in a delicate floral pattern adds a sense of vintage charm and sophistication to this midi dress. The floral motif exudes a timeless appeal, making this dress a versatile choice for various occasions.The dress strikes the ideal combination between class and usefulness as it reaches a lovely midi length. The longer hemline adds a touch of refinement, making it suitable for both formal events and casual outings. Designed specifically for petite figures, this dress ensures a tailored and well-proportioned fit. The carefully considered sizing enhances the beauty of petite frames, celebrating their unique beauty. Crafted from breathable and lightweight materials, the dress ensures comfort and ease of movement. The airy fabric is perfect for warm weather, making it an ideal choice for summer events and outdoor gatherings.
3.   White Alexa Broderie Midi Dress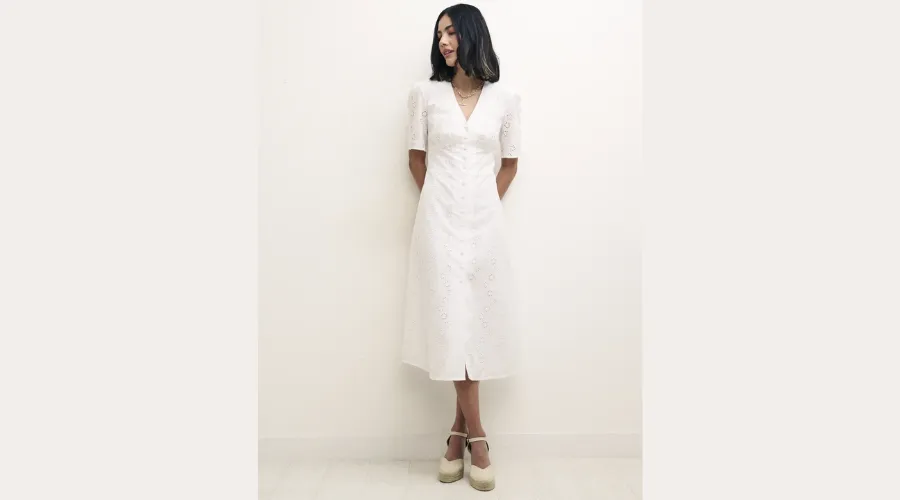 The White Alexa Broderie Midi Dress is a stunning and elegant piece that captures the essence of classic beauty and refined charm. This white broderie anglaise dress features intricate broderie anglaise embroidery in a timeless and versatile white hue, exuding sophistication and grace. The midi length adds an air of timeless elegance, making it a perfect choice for various occasions. The White Alexa Broderie Midi Dress offers a versatile and elegant option for any occasion. Whether you're attending a summer event, a garden party, or a romantic dinner, this dress promises to exude timeless beauty and refined charm.
4.   White Dominique Broderie Midi Dress
The delicate broderie anglaise embroidery in white showcases a captivating and intricate design. The detailed patterns add a sense of refined luxury, elevating the dress to a truly exquisite piece. The white broderie dress falls to a midi length, striking the perfect balance between sophistication and versatility. The longer hemline exudes elegance, making it suitable for formal events, summer soirées, or upscale gatherings.  The dress's pristine white colour exudes an air of timeless beauty and sophistication. White is a versatile and classic colour that allows for endless possibilities in styling and accessorising. Crafted from lightweight and breathable materials, the dress ensures comfort and ease of movement. The fabric drapes gracefully, allowing for natural airflow, making it an excellent choice for warm weather and outdoor events.
Conclusion
Nobody's Child Broderie Anglaise dresses celebrate timeless elegance and effortless chic. The delicate embroidery, versatile designs, breathable fabrics, and alluring details make these dresses a valuable addition to any fashion-conscious woman's wardrobe. Embrace the beauty and grace of Broderie Anglaise, stepping into a summer of enchanting style with Nobody's Child. Whether attending a special occasion or savouring the warm weather, these dresses will make you feel like the embodiment of timeless beauty and feminine allure. Nobody's Child presents a collection that captures the essence of timeless fashion. For more information, visit the official website of Celebzero.
FAQ's